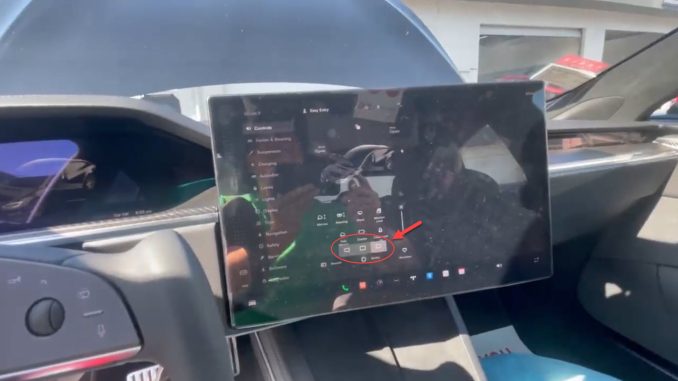 When Tesla first announced the refresh Model S and Model X, the Design Studio noted the cars would come with an all-new 17-inch center display with a "left-right tilt" feature.
A few months later, and just before the first Model S deliveries began, Tesla removed all references to the feature from its website, hinting at a possible parts supply issue that caused them to pull the tilt function from production prior to its release.
Teardowns of the Model S have shown all of the hardware is there for the feature to work, with the only missing part being the motor to power it.
Now it appears Tesla has been able to resolve whatever issue was preventing them from including the motor. According to a short video shared by Larry Li on Twitter, a recently delivered Model S has a functioning screen tilt feature.
We know this is not an aftermarket solution as the software has controls to tilt the screen to the left or right.
Li confirmed with Drive Tesla that the power frunk also shown in the video is an aftermarket solution.
We have requested additional information from Li about when the car was delivered and what software the car is currently running. We will update this article as we get more information.
UPDATE 11:19am PST: Li tells us this Model S was delivered on Friday April 29, 2022.
You can check out the Model S tilt-screen feature below.
Tesla finally added screen swivel to the refreshed model s pic.twitter.com/JeldBrRTXw

— Larry Li (@TeslaFrunk) May 3, 2022