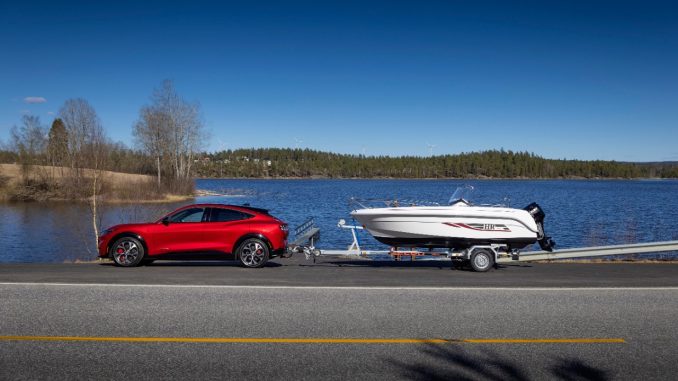 Ford has announced a number of changes are coming to the Mustang Mach-E, including an increase in the electric SUVs towing capacity and charging speeds.
In a press release targeted at the European market, Ford says the Mach-E can now tow 1,000kg (2,205lbs). According to the automaker, that will be enough to tow "a typical small or average-sized fibreglass fishing boat."
The increased towing capacity applies to the extended range models in rear-wheel drive and all-wheel drive configurations, but only in Europe. The North American version of the Mach-E is still not currently rated for towing.
"The towing upgrade for Mustang Mach-E is one of a number of free updates we're continuing to make in hardware and software or through homologation  to give owners the best experience possible," said This Woelpern, general manager, Imports, Ford of Europe. "With towing in particular, it was a great example of us responding to customer queries, where we checked the feasibility of an increase and were able to deliver what they wanted."
Another change to the Mach-E is an improved charging curve. The electric SUV can now charge from 80% to 90% in just 15 minutes, compared to the 52 minutes it previously took.
Ford didn't specify how it was able to make such a substantial improvement in charging speeds, but it likely relates to a software change that previously limited charging power to between 12-14kW above 80% state of charge.
Along with the changes above, Ford has also recalibrated the one-pedal driving feature "for even smoother performance at lower speeds and enhancements to driver comfort."
Ford also promised changes for existing owners through future over-the-air (OTA) software updates, without specifying what new features may come in the future.
2022 Ford Mustang Mach-E is no longer available to order in the US