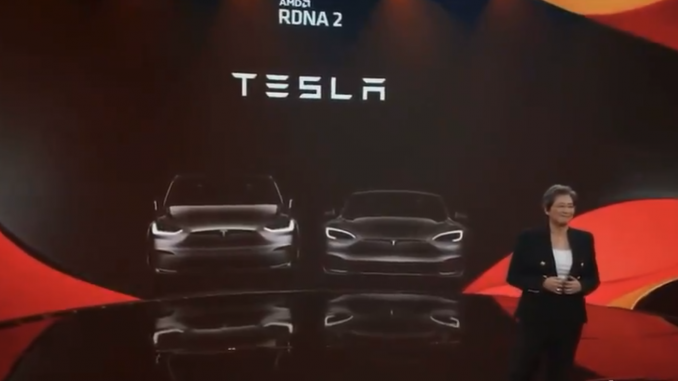 When Tesla officially announced the refresh Model S and Model X in January, part of the updated design included a new infotainment system. According to Tesla's website, the new system would provide up to 10 teraflops of processing power, enough to rival the latest home gaming consoles like the Playstation 5.
Soon after the announcement, some detailed specs were leaked revealing the new computer computer could be powered by AMD, one of the world's biggest selling chipmakers.
The leak has now been confirmed.
During a keynote address at the Computex tech expo, AMD CEO Lisa Su said the new Model S/X will feature the company's Ryzen APU and RDNA 2 GPU.
In her address, Su noted the Ryzen APU will power the infotainment system in both cars. The Ryzen RDNA 2 GPU will kick in when playing something that demands high processing power like triple A games.
We will hopefully start seeing these processors at work in refresh Model S vehicles soon. Elon Musk recently delayed the first deliveries by one week to June 10, when a special event will take place at the Fremont factory. Musk has confirmed the event will be live streamed, but we don't have any further details at this time.
This is awesome! https://t.co/7z3RsbTnRb pic.twitter.com/yjODi6OqW3

— The World Of Tesla (@WorldofTesla1) June 1, 2021