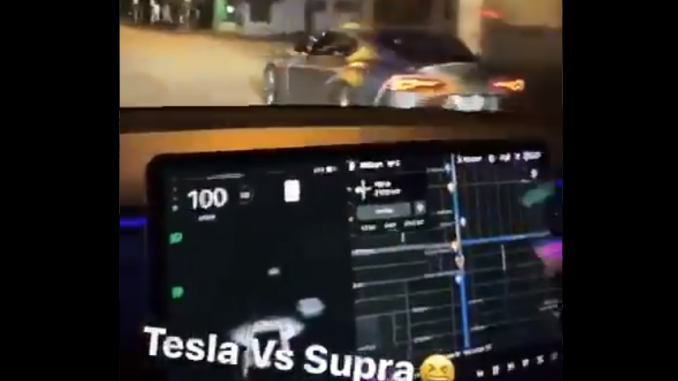 If you feel the need for speed, the best idea is to take your car to a racetrack and not put the lives of others on public roads in danger.
Unfortunately that is not how a Tesla owner in Vancouver felt recently when he decided to race a Toyota Supra, veering in to oncoming traffic at 170km/h (105mph) to pass other motorists.
Making matters worse, the driver was using one hand to film the race, and then posted the video to Instagram for all to see, including the police.
The video was posted by the Instagram account blackwidow_y, which has since been deleted. But that was not before the video was saved and shared with local police, along with the plate number of the Tesla.
Sergeant Mark Christensen of the Vancouver Police Department shared the video to his Twitter account earlier this evening. In his tweet, Sgt Christensen says they have identified the Tesla driver, and are working on identifying the driver of the Supra.
It goes without saying, but we will say it anyway. We do not condone behaviour like this and encourage all car owners to visit your local racetrack if you want to drive this fast.
When you post this to social media… going 170 kmh in Vancouver, I will guarantee you that one of your "friends" will rat you out! We have identified the Tesla…working on Supra, you can expect a visit from us in the near future! @VancouverPD @ChiefPalmer @VPDTrafficUnit pic.twitter.com/wPr7CW3oP3

— Sgt Mark Christensen (@baldguy1363) June 1, 2021