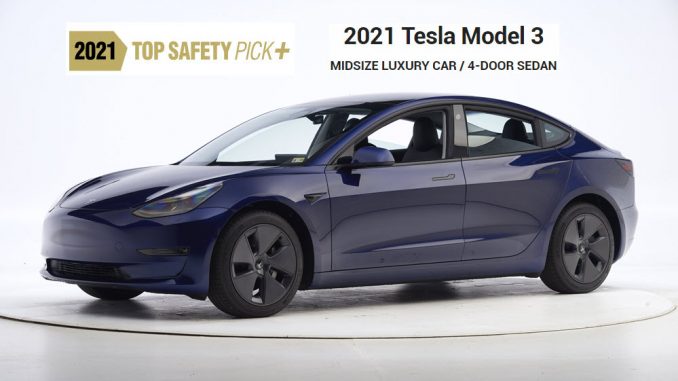 When Tesla made the decision to remove radar from the latest builds of the Model 3 and rely solely on the cameras for Autopilot and other safety features, many questions were asked about whether it was the right move.
This was especially the case after safety agencies updated their ratings and removed safety designations on the electric sedan until they had a chance to re-test the radar-less vehicles.
Now that the Insurance Institute for Highway Safety (IIHS) has independently tested a Tesla Vision Model 3, the car has regained its Top Safety Pick+, the agency's highest safety award.
The changes come after independent tests showed the camera-based automatic emergency braking (AEB) and forward collision warning (FCW) systems were just as effective when the cars were equipped with radar.
In an update to the IIHS website, the Model 3 avoided a collision with another vehicle in both the 12mph (19km/h) and 25mph (40km/h) tests. That was enough to give AEB a 'Superior' rating on both front crash prevention measures.
AEB and Collision Avoidance Assist also received 'Advanced' ratings for vehicle-to-pedestrian front crash prevention.
Based on the test results, Consumer Reports has also restored the Model 3's status as a 'Top Pick'.
"Given the IIHS' recent evaluations of Tesla's new camera-based system on its Model 3 and consistent with CR's integration of IIHS ratings into our recommendations, CR is restoring the car's Top Pick status," says Jake Fisher, senior director of CR's Auto Test Center. 
The test results are validation for CEO Elon Musk, who was sharply criticized for the automaker's decision to ditch radar and rely solely on the car's cameras instead.
The IIHS has yet to test a Tesla Vision Model Y, so its ratings have not yet been updated, but we should expect the same results when it does.