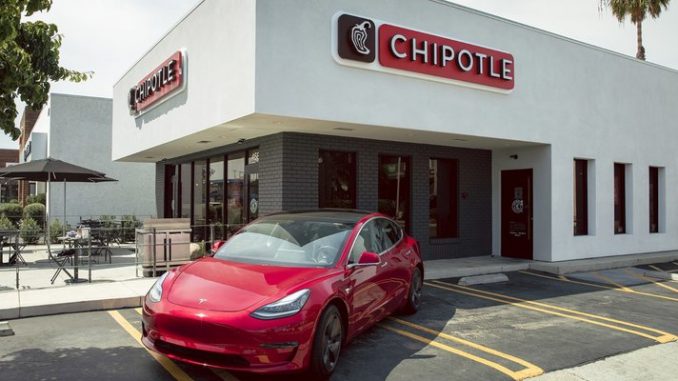 Chipotle and Tesla are teaming up to celebrate the launch of the Chiptole Rewards Exchange. The program, which first launched in 2019, introduces a new video game called Chipotle Race to Rewards Exchange.
The interactive racing game challenges players to earn points and avoid obstacles for a chance to win prizes. The top prize for the game is a 2021 Tesla Model 3.
The previous iteration of the program allowed people to use the points towards free entries. However, with this latest update, members can now exchange points for 15 reward options at Chipotle Restaurants. This includes free guac, free drinks and even Chipotle Goods.
Once enrolled in the program, users get 10 points for every $1 spent in a restaurant, online or in the Chipotle App.
In addition, users can also opt to donate their points to support a Chipotle non-profit partner. Chipotle non-profit partners include National Young Farmers Coalition, National Urban League and the Farmlink Project.
However, the Chipotle Race to Rewards Exchange video game is a limited-time event. The racing game went live at 9:00am this morning and will end at 9 am on Friday.
The top eligible scorer at the end of the period will win the 2021 Tesla Model 3! Second, through fourth, will receive an electric bike, and five through ten will receive an electric skateboard.
Rewards Exchange is now live in the app so we made a game about it. Play tomorrow 6/23 9AM PT. You could win a Tesla Model 3: https://t.co/pNmHDBYFzt.

NoPurchNec. U.S. & DC (ex. AK & HI), 13+ (minors require parental consent). See Official Rules: https://t.co/WkrrlQUY07. pic.twitter.com/d1j3fBVywi

— Chipotle (@ChipotleTweets) June 22, 2021