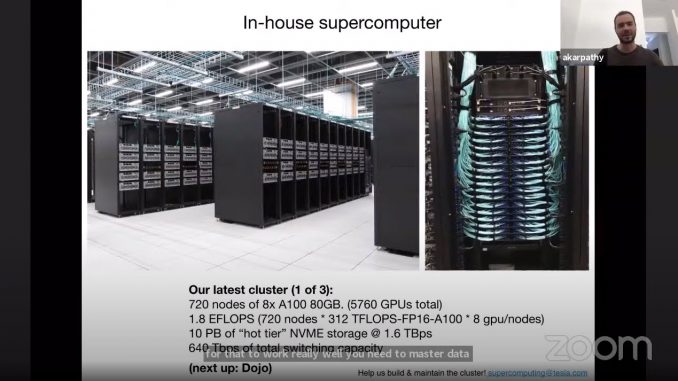 At a virtual conference on Sunday, Tesla's Senior Director of AI Andrej Karpathy revealed the first image of the company's new supercomputer that will help it achieve autonomous driving capabilities.
Speaking at the 2021 Conference on Computer Vision and Pattern Recognition (CVPR), Karpathy said the supercomputer is able to process vast amounts of video data that is sent in by the automakers fleet of over 1 million vehicles.
This data is then labeled by the supercomputer to help train the neural networks, which is now using a vision only approach after ditching radar in the latest Model 3/Y builds.
"Training these neural networks like a mission, this is a 1.5 petabyte dataset, requires a huge amount of compute. So I wanted to briefly give a plug to this insane supercomputer that we are building and using now. For us, computer vision is the bread and butter of what we do and what enables the Autopilot and for that to work really well, you need a massive data set, we get that from the fleet, and you also need to train massive neural nets and experiment a lot. So we've invested a lot into the compute," Karpathy said.
According to the stats given by Karpathy, which is for just one of three clusters they use, this supercomputer is the fifth most powerful in the world.
720 nodes of 8x A100 80GB (5760 GPUs total)
1.8 EFLOPS (720 nodes * 312 TFLOPS-FP16-A100 * 8 gpu/nodes)
10 petabytes of "hot tier" NVME storage @ 1.6 terabytes per second
640 terabytes per second of total switching capacity
You can watch Karpathy's full presentation here, which gives great detail on Tesla's new approach to self-driving using vision only. His presentation begins at 7:50:59.