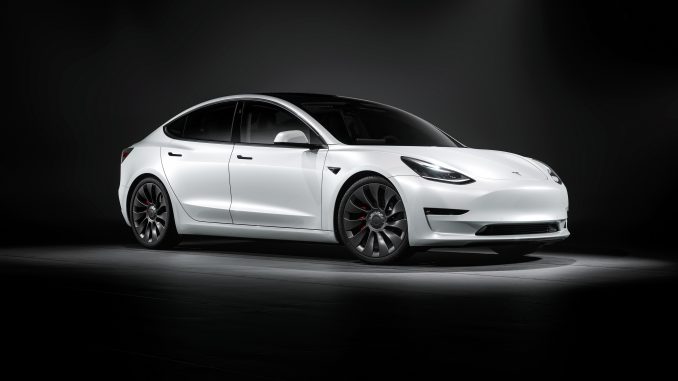 The Tesla Model 3 has been named by Cars.com as the most American-made car, the first time an electric car has topped the list in its 16-year history.
The American-Made Index was first created in 2006, and ranks vehicles based on criteria like number of factory jobs in the U.S., location of manufacturing plants, and also parts sourcing.
In third place was the Tesla Model Y.
"Tesla has now cemented itself firmly on Cars.com's American Made-Index, with the Model 3 and the Model Y taking the No. 1 and No. 3 spots, respectively," says Kelsey Mays, Cars.com assistant managing editor and the AMI's lead researcher.
The automotive publication started out with a list of 344 models on the market in 2021. That list was whittled down to 90 models that qualified based on the criteria above. Ford took second place with the quintessentially-American Mustang.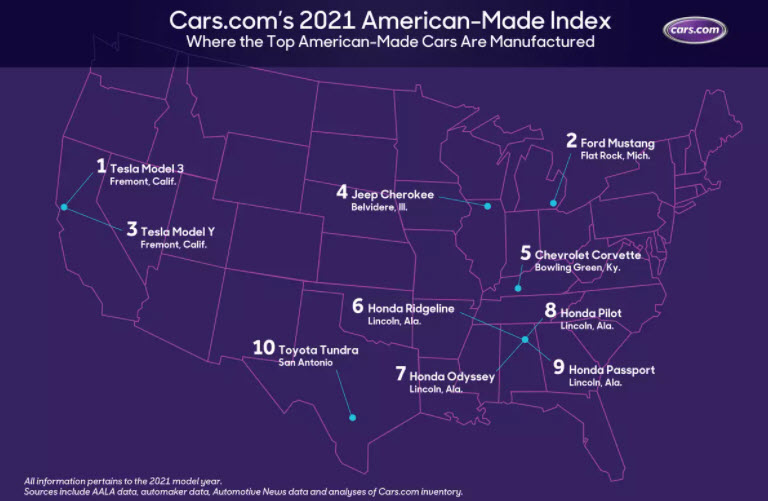 Tesla topped the list in just their second year of participation in the index. Last year the automaker took three of the top 10 spots, with the Model 3 placing fourth.
The Model Y didn't rank last year as production was still ramping up, and similarly this year there was not enough data to rank the Model S/X.
Here is the full top-10 list, with the car's 2020 ranking in brackets.
1. Tesla Model 3: Fremont, Calif. (4)
2. Ford Mustang: Flat Rock, Mich. (34)
3. Tesla Model Y: Fremont, Calif. (unranked)
4. Jeep Cherokee: Belvidere, Ill. (2)
5. Chevrolet Corvette: Bowling Green, Ky. (8)
6. Honda Ridgeline: Lincoln, Ala. (6)
7. Honda Odyssey: Lincoln, Ala. (5)
8. Honda Pilot: Lincoln, Ala. (13)
9. Honda Passport: Lincoln, Ala. (7)
10. Toyota Tundra: San Antonio (16)