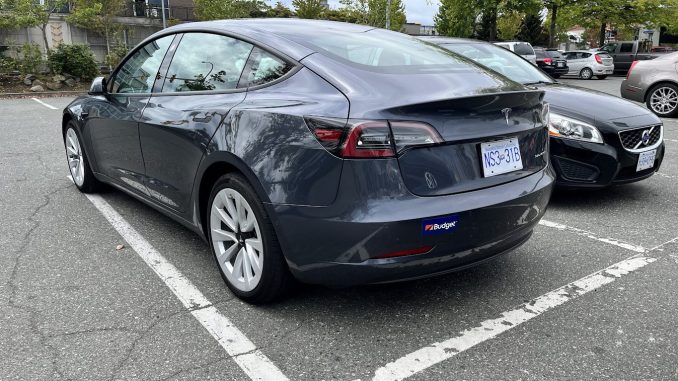 You now have another option to rent a Tesla in British Columbia as at least two Budget locations have recently added Model 3s to their car rental fleet.
While Budget hasn't advertised or promoted that they have added the electric sedan to their fleet, Drive Tesla has learned the company has added the electric sedan to their fleet on Vancouver Island and in the Okanagan this month.
According to a Budget car rental store at the Victoria International Airport, as many as 25 Model 3 sedans are now available to rent on Vancouver Island. There are also some available at the Kelowna International Airport, but we were not provided an exact number, however we expect a similar number to be available there. These locations in Victoria and Kelowna are jointly owned by the same franchisee and operate independently from Budget, so it appears as though the Model 3s are limited to these areas.
You won't be able to find the new Model 3s on the Budget car rental site because they are not reserveable. What you have to do is reserve another type of vehicle and hope that when you go to pick it up a Model 3 is available for rent, at which point you can upgrade to the electric sedan.
You can also walk in to a location and reserve one if it is available.
If you are lucky and one is available, it will cost about $200 per day before taxes, fees and surcharges. That puts the cost of renting a Tesla Model 3 from Budget at about the same cost as a convertible like a Chevy Camaro.
If you can't find a Tesla to rent through Budget, you can try Hertz who also recently added both the Model 3 and the Model Y to their rental fleets in Vancouver, Montreal, and Toronto. These EVs are also available to Uber drivers for rent on a weekly basis.
Since the Budget Tesla rentals appear to be limited to these locations and since they are not available on the website, they also don't show up in the central reservation system, making it difficult for us to learn if more are available elsewhere.
If you are aware of any other Budget locations that have recently added Tesla Model 3 or Model Y vehicles to their fleet, let us know in the comments below or reach out to us at tips@driveteslacanada.ca.