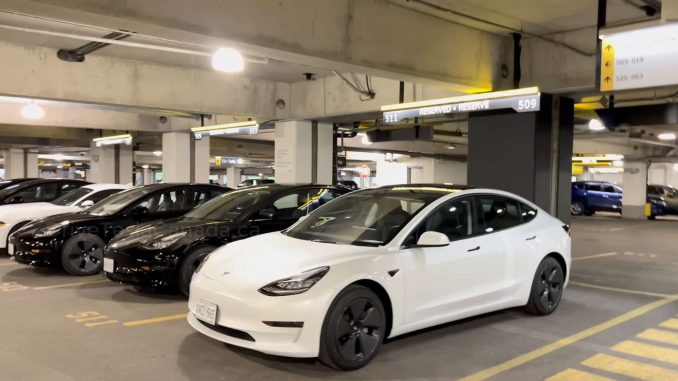 Canadians can now rent the Tesla Model 3 through Hertz as the company has brought the Model 3 to select airports across Canada.
A Drive Tesla reader sent us these pictures showing close to a dozen of the electric sedans in parking spots reserved for the Hertz rental vehicles at Toronto's Pearson International Airport (YYZ).
We have checked Hertz Canada's website, and we were able to find the Model 3 available at Toronto (YYZ), Montréal-Pierre Elliott Trudeau International Airport (YUL), and Vancouver International Airport (YVR), confirming what the company told us last year, although slightly behind their original timeline of Q1 2022.
UPDATE July 25 7:18am PST: There are at least two dozen Model 3 and Model Y available to rent at Calgary International Airport (YYC). Interestingly, they all have British Columbia license plates, and not Alberta.
However, we don't know what rates Hertz is charging customers to rent the Model 3 as we were unable to find a date where it was not sold out.
UPDATE 1:27pm PST: According to one of our readers, Hertz is charging $214 per day for the Model 3, and $568 for a weekend rental (pickup Friday and return Sunday) at Toronto Pearson. This is comparable to the VW Jetta, Toyota Corolla, Hyundai Sonata, and Toyota RAV4, which all rent for roughly the same amount.
We reached out to Hertz for comment but have not received a response by the time of publication. We will update this article when we do.
Last year Hertz announced plans to purchase up to 100,000 Tesla vehicles as part of the company's efforts to lead the adoption of electric cars for the rental car industry.
Hertz has since rolled out Model 3's to many of its locations across the US, and even added the Model Y as well.
They have also added the Polestar 2 to its fleet, taking delivery of the first units just last week.
If you come across more Tesla vehicles at Hertz locations in Canada, let us know in the comments below or send us some photos at tips@driveteslacanada.ca.