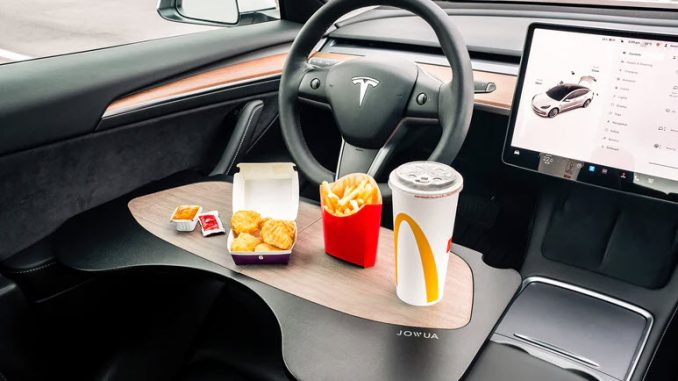 If you spend a lot of time in your Tesla and are looking for a better way to work or eat in your car, this foldable car tray from Jowua is the perfect solution.
The Foldable Car Tray sells for $79.95, but you can use the Jowua coupon code drivetesla to save 5% off your order. Click here to buy yours now.
The code is also valid on everything in the Jowua store, like their USB Hubs, Wireless Controllers, and much more.
Product Description
The Foldable Car Tray from Jowua features a wood pattern design to match the interior of your vehicle, paired with a polyurethane leather border for a soft touch feeling and added durability.
Unlike other car trays, the Jowua tray doesn't attach to the steering wheel but instead rests on the center console and door arm rest. It won't slide around either as the underside features anti-slip silicone.
When it is not in use the car tray can be folded and stored easily in your frunk. You can even store two side-by-side and still have virtually all of the space in your frunk available for daily use.
Affiliate Disclosure: This post contains affiliate links, which allows us to continue to deliver great Tesla & EV news. Thank you for your support.