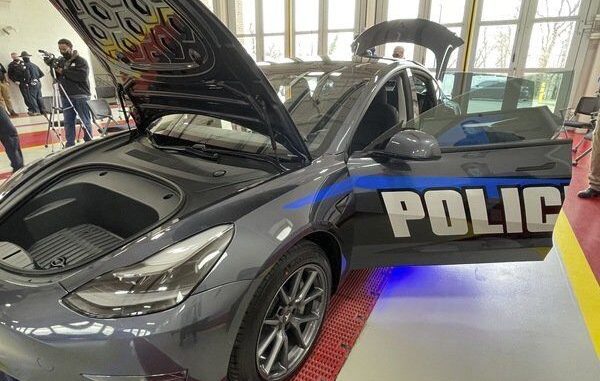 Earlier this year the Berea Police Department (BPD) added three Tesla Model 3s to its fleet of police cruisers. After just six months on the job, the electric sedans have already impressed with massive savings.
When BPD Chief Eric Scott unveiled the three new electric cars in March, he had difficulty containing his enthusiasm, saying he expected to save more than $500 per month in fuel and maintenance costs per month compared to their Dodge Charger police cruisers.
It looks like the Chief did his homework. In a statement Friday, Berea Mayor Bruce Fraley said the department has already saved $7,000 in fuels costs alone.
That number could be even higher as the figure was calculated using last year's gas prices.
"They're saving us money. I've already saved $7,000 this year, three vehicles, in fuel alone. And this is not even counting the increase in fuel. This is off of last year's fuel numbers.I'm saving the tax payers money, because the reality is there's no maintenance. The only fluid on this thing is windshield washer fluid," Mayor Fraley told WKYT.
The results have been so good other local government departments are now also considering switching to electric.
"We have meter readers who have expressed an interest, we have an IT Director has expressed in interest in having an electric vehicle," Mayor Fraley said. "So, not only the police department, but our codes and planning, that's when it's mostly local, our public works department that mostly local if they don't have to have a big truck. I think electric vehicles are something that will be workable in the near term."
Both the Model 3 and more recently the Model Y have become popular choices among police departments across the United States. Earlier this summer the Fremont Police Department added a Model Y after a successful pilot with a Model S.
No police departments in Canada have added a Tesla to their fleets, yet. Ontario's Peel Regional Police received a Tesla Model Y loaner in February as they are considering a switch to electric.
Peel Regional Police in Ontario get Tesla Model Y loaner as they consider switch to electric