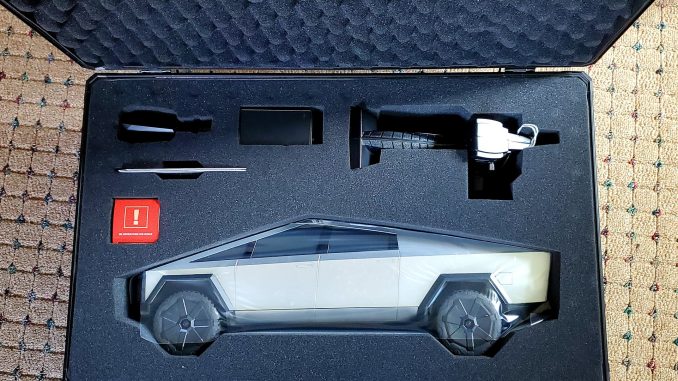 The long wait is finally over, the first shipments of Hot Wheels RC Tesla Cybertrucks have started arriving on doorsteps in the US. Canadians should expect to see them arrive early next week.
Drive Tesla reported earlier this week that credit cards had started being charged, a sure sign that deliveries would begin soon. Just two days later several Tesla fans have received theirs and posted photos and videos to social media showing off their new $400 USD toy.
One of those lucky fans was YouTuber DÆrik, who received his Cybertruck yesterday. He posted a lengthy unboxing video, noting how sturdy (and likely expensive) the black storage box is.
He also gives us a view of some of the features of the Cybertruck, which includes a retractable "vault" cover, magnetic tailgate with hidden ramp, working LED headlights and taillights, and more.
DÆrik then takes it outside to test it out, and it is fast even when set to Chill mode.
Check out his video, along with another showing the performance of the RC Cybertruck. Let us know in the comments below if you're waiting for yours.