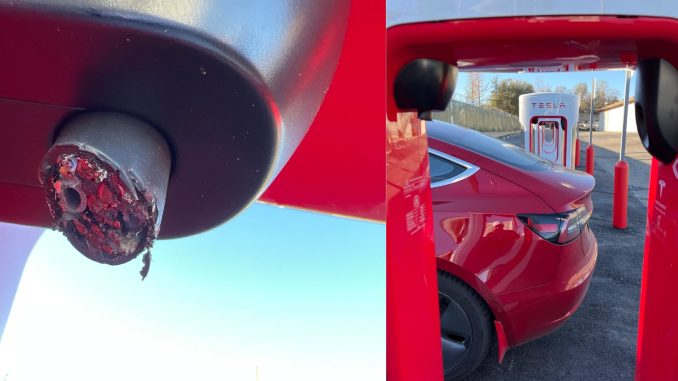 Just last month a new Supercharger in Surrey, British Columbia was targeted by vandals, with four of the V3 charging cable being cut just days before it was scheduled to open.
There has now been another unfortunate incident of vandalism at another new Supercharger station, this time in Oakhurst, California.
According to photos taken at the site on Friday by TMC member Randy Spencer, all eight V3 charging cables were cut just inches from where the come out of the Supercharger pedestal. (h/t: @MarcoRPTesla)
UPDATE Feb 8 8:15am PST: In some good news, Tesla has already been able to repair and reopen the station. They also added a new feature – a solar powered mobile security system complete with cameras and alarms. Hopefully that doesn't get stolen now…
As with the incident in Surrey, the vandals were likely after the copper inside the charging cables, which can be sold for cash at scrap metal recycling facilities.
But just like that incident, these vandals will likely get less than $100 for the copper, if anything as it would be pretty clear that the cables were illegally obtained.
On the other hand, it will likely cost Tesla several hundred, or even a few thousand dollars to replace the cables.
Not to mention the downtime and extra money needed to pay technicians to perform the repairs.