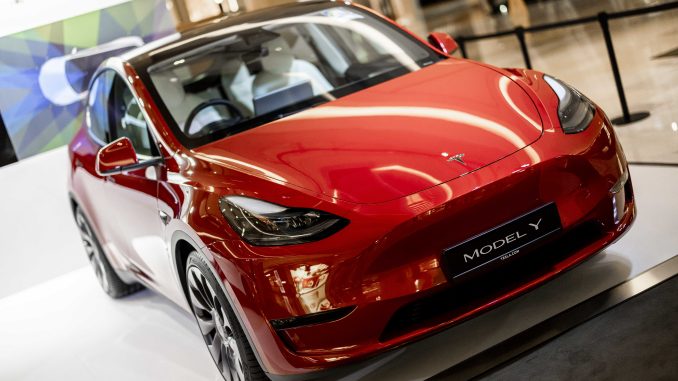 Earlier this year a study by ISeeCars.com found that the Tesla Model X was the fastest-selling used vehicle, selling on average within 28 days of being listed.
Today ISeeCars published an update to their study, and while Tesla remains at the top of the rankings, the number one spot is no longer held by the Model X.
Instead, the fastest-selling used vehicle is now the Model Y, with the electric SUV taking just 24.9 days to sell. According to their findings, the Model Y has an average used selling price of $69,784 USD.
ISeeCars didn't break down any differences between the Long Range or Performance variants, but that used selling price is roughly the same as a brand new Model Y Performance, which starts at $69,990 USD.
As expected, they attribute the high selling price and quick turnaround time to the record high levels of demand for Tesla vehicles.
The earliest delivery time for a new Tesla Model Y is January 2023 for the base model and August 2022 for the performance version, which is further elevating the demand for the used versions that just entered the used car marketplace," said Executive Analyst Karl Brauer.
After previously holding the top spot, the Model X now sits in sixth place, selling on average within 28 days at a price of $90,089, well below the starting price of $120,990 for a new Dual Motor All-Wheel Drive Model X.
The Model 3 sells slightly quicker at 27.7 days on average at a price of $52,516, in between the current starting prices for the RWD and Long Range variants.
The only other electric vehicle to make the top 20 list was the Ford Mustang Mach-E, which took the third spot selling for $60,881 within 26.8 days.
Here are the full results of the ISeeCars study.
Top 20 Fastest-Selling Used Vehicles in June 2022 – iSeeCars Study
Rank
Vehicle
Average Days to Sell 
Average Price
1
Tesla Model Y
24.9
$69,784
2
Toyota Prius Prime
25.1
$31,867
3
Ford Mustang Mach-E
26.8
$60,881
4
Toyota Prius
27.0
$28,029
5
Tesla Model 3
27.7
$52,216
6
Tesla Model X
28.0
$90,089
7
Mazda MAZDA3 Sedan
28.8
$24,890
8
Kia K5
29.9
$31,357
9
Toyota Highlander Hybrid
32.3
$45,521
10
Acura ILX
32.6
$26,182
11
Honda Civic
32.8
$25,369
12
Chevrolet Camaro
32.9
$34,345
13
Ford F-150 Hybrid
33.0
$67,274
14
Honda Accord Hybrid
33.0
$31,122
15
Audi A4
33.1
$31,773
16
Subaru WRX
33.9
$33,102
17
Land Rover Range Rover Velar
34.0
$55,042
18
Toyota RAV4 Hybrid
35.0
$38,051
19
Audi Q3
35.6
$32,942
20
Chevrolet Spark
36.1
$16,743
Average for All Used Vehicles
52.1
$34,629