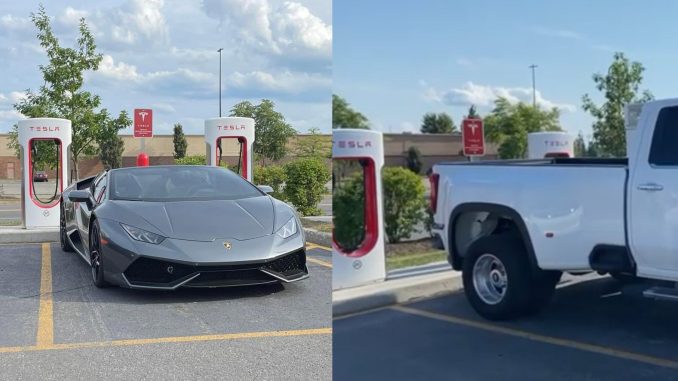 Unfortunately it is still common to see a Tesla Supercharger stall (or several) blocked by a gas powered vehicle, commonly referred to as being "ICE'd". This was the case in Boisbriand, Quebec over the weekend where in two separate incidents the local Supercharger was blocked by a large pickup truck and then a Lamborghini.
The most egregious of the two incidents happened on Saturday, when one of our readers pulled up to the Boisbriand Supercharger to find a large white Chevy Silverado 1500 High Country parked in one of the stalls.
Not only was this truck blocking access to the Supercharger, it was left idling with no one inside of it. Our reader tells us that the owner of the truck was doing his grocery shopping at the nearby IGA store.
When the owner returned 15-20 minutes later he was asked why he was not only blocking a Supercharger, but also leaving his truck idling with no one in it, to which he sarcastically replied that he one day dreams of owning a Tesla.
It might sound unbelievable, but this video was shared with us in case there were any doubts. Apparently the truck owner doesn't know in Quebec you can be fined $125 and have your car towed for parking in an EV charging spot.
Amazingly, this wasn't the only case of the Boisbriand Supercharger being ICE'd.
Less than 24 hours later the very same stall was blocked by a Lamborghini, as we shared with our followers on Twitter.
Boisbriand Supercharger in Quebec today, ICE'd by a Lamborghini

📸: Jean-Phillipe G pic.twitter.com/ZizlALUWOI

— Drive Tesla 🇨🇦 (@DriveTeslaca) September 12, 2022
Although it is definitely not an excuse, especially for leaving your truck idling, part of the reason these incidents might have happened could be the Supercharger's close proximity to the entrance to the IGA.
However, we reviewed Plugshare and social media to see if there have been reports of ICE'ing at the Boisbriand Supercharger since it opened in January, but could not find any others.
Have you ever come across a Supercharger being ICE'd? Did you confront the owner? Let us know in the comments below.