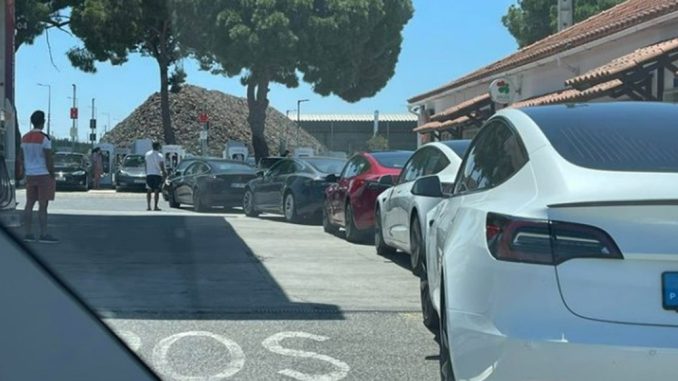 The problem of Supercharger lineups is not limited to North America as Tesla owners in Portugal were faced with the same problem over the weekend.
With the summer road trip season beginning, there was a long lineup of Tesla cars at the Alcacer do Sal Supercharger while travelling to or from the south of Portugal.
One owner shared a photo to a local Facebook group a showing he was the sixth car in the lineup at the 10-stall V2 Supercharger.
Given the maximum 150kW charging speed, this means the wait time was likely at least an hour. It is unclear if there were more Teslas behind him.
Since Tesla's in Europe also come equipped with a CCS charge port, owners could also plug in to third-party network to charge their cars. However that wouldn't solve the problem, since according to the publication, other charging networks are also not keeping up with the pace of electrification in the country.
"If even Tesla, which offers its own network of Superchargers, is not immune to the periods of largest affluence, with owners having to wait some time to charge them, the owners of the remaining 100% electric vehicles face even larger difficulties during long-distance trips with just one or two chargers per service station along the A2," Escape Livre notes.
Tesla's Supercharger map shows there are currently eight Supercharger stations in the country, with plans for another three to open in the future, but none have estimated opening dates. According to Escape Livre, a total of 1,140 Model 3s were sold in Portugal last year.