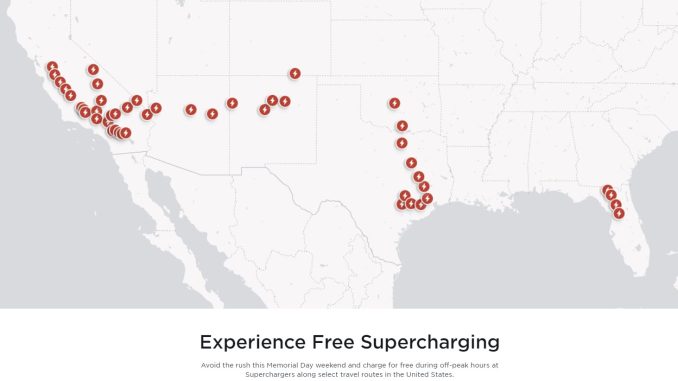 Tesla is bringing back free Supercharging at select stations in eight states across America for the Memorial Day weekend.
According to a special holiday Supercharging page set up on Tesla's website, you can avoid the holiday rush next weekend by Supercharging for free during off-peak hours, which is before 10:00am and after 7:00pm.
The promotion runs from Friday, May 27, 2022 until Monday, May 30, 2022 at 54 Supercharger stations in Arizona, California, Colorado, Florida, Nevada, New Mexico, Oklahoma, and Texas.
This is not the first time Tesla has a Supercharging promotion on a holiday long weekend. Last year for Memorial Day the automaker offered Supercharging at 50% off. They have also offered similar promotions during Thanksgiving weekend, where it is not uncommon to see long lineups of Tesla vehicles waiting to be plugged in.
Tesla has also deployed temporary Superchargers in areas with high congestion to help drivers out on busy weekends.
A full list of the participating stations can be found below. (h/t: Tesla Owners East Bay)
Arizona
Flagstaff, AZ
Holbrook, AZ
Kingman, AZ
Kingman, AZ – West Andy Devine
California
Baker, CA
Bakersfield, CA – Copus Road
Bakersfield, CA – I-5
Barstow, CA
Beaumont, CA
Bishop, CA
Buttonwillow, CA
Cabazon, CA
Cabazon, CA – Morongo Trail
Firebaugh, CA
Gustine, CA
Harris Ranch
Hesperia, CA
Indio, CA
Inyokern, CA
Inyokern, CA – Locust Avenue
Kettleman City, CA
Kettleman City, CA – Bernard Drive
Lone Pine, CA
Mojave, CA
Needles, CA
Palm Springs, CA
Palmdale, CA
Patterson, CA – Speno Dr
Rancho Mirage, CA
Tejon Ranch, CA
Tejon Ranch, CA – Outlets at Tejon Pkwy
Yermo, CA
Colorado
Florida
Gainesville, FL
Jasper, FL
Lake City, FL
Ocala, FL
Ocala, FL – West Silver Springs Boulevard
Nevada
New Mexico
Albuquerque, NM
Gallup, NM
Las Vegas, NM
Santa Fe, NM
Oklahoma
Ardmore, OK
Oklahoma City, OK
Texas
Centerville, TX
Columbus, TX
Corsicana, TX
Denton, TX
Flatonia, TX
Giddings, TX
Houston, TX
Huntsville, TX
Katy, TX