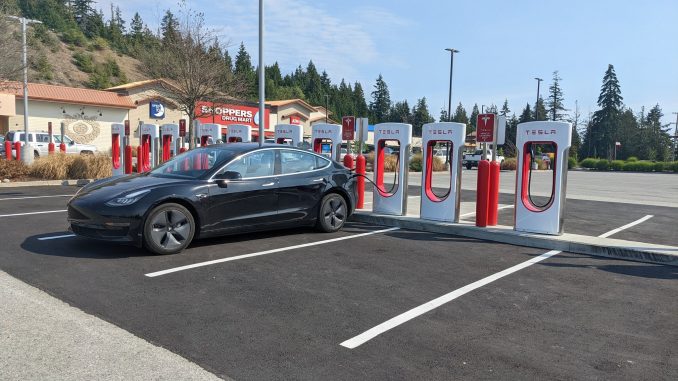 Tesla owners on the Sunshine Coast of British Columbia have their first Supercharger after the new Sechelt station was turned on today.
Construction of the Sechelt Supercharger began in early July at the Tsain-Ko shopping center at 5500 Sunshine Coast Hwy. This afternoon the 12 V3 Supercharger stalls were energized and among the first owners to plug in and charge their car was Drive Tesla reader Allan Harding.
Sechelt superchargers are operational! @DriveTeslaca @teslainvernon @SunshineCoastEV @tesla pic.twitter.com/kwDrnUwM3f

— Allan Harding (@allanharding) August 23, 2022
The exact location of the station is in front of the Ricky's All-Day Grill on the south side of the shopping center. Nearby amenities include A&W, Bento Sushu, and Shoppers Drug Mart.
According to the Tsain-Ko shopping center, they will be monitoring the use of the Supercharger and if there is enough demand they plan to expand and add more stalls.
They were originally hoping to have the Supercharger open in the spring and track the traffic over the busy summer months, but some unspecified delays meant a later than anticipated opening.
There are currently four other Superchargers under construction or waiting to be turned on in British Columbia. There are two being built in Kamloops, as well as a third location for Merritt. The Castlegar Supercharger has been completed for a long time but it still waiting to be turned on.