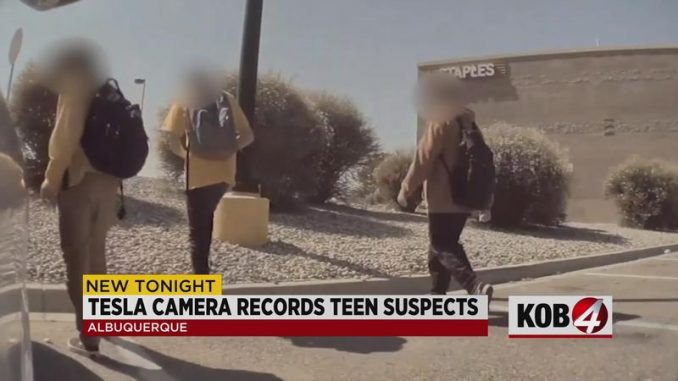 Yesterday we told you about a Tesla Model Y that was keyed in Colorado. The owner in that case has released the Sentry Mode footage of the two vandals in the hopes they will be identified and brought to justice.
A similar story recently unfolded in Albuquerque, New Mexico, where Sentry Mode caught a local teen vandalizing a Model 3.
The owner, Daniel, noticed a large scratch on the driver's side of his car when he returned home from work last week. Unsure if he had done the damage himself, he reviewed his Sentry Mode footage from earlier in the day, only to find a local teenager was actually responsible.
The video shows three teens walking towards the car. As they pass the Model 3 one of the teens can be seen with something in his hand as he holds it against the side of the car as he walks by.
Daniel posted the incriminating footage to Facebook, where it quickly went viral, eventually leading to the identification of all three teens seen in the video.
Since the suspects are juveniles, Daniel says police are now involved and talking with the parents of the teens to pay for the damages to his car.
"At this point in time all three kids have been identified, that's what the police have told me they are in the process of talking to their parents cause they are juveniles, so the legal process is different," Daniel told KOB4 News.
The teen who actually scratched the Model 3 will likely have to work an extra summer job next year. A Tesla Service Center estimated the repairs to cost around $1,500.
You can watch the video in the news segment below.