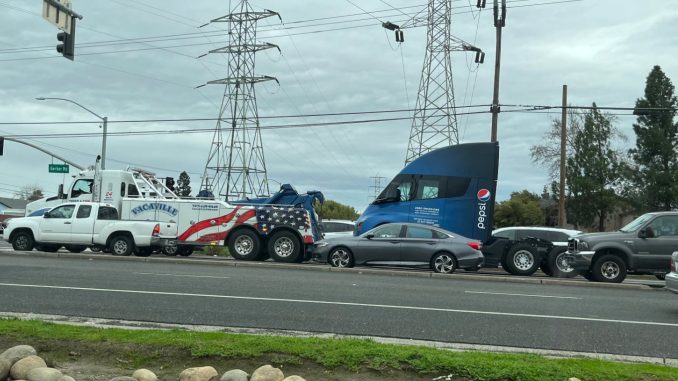 Tesla started deliveries of the Semi to PepsiCo on December 1, 2022 and according to Vice President Mike O'Connell the company had taken delivery of 36 electric Semi trucks by mid-December. It appears as though one of them has experienced an issue that forced it to be hauled away by a tow truck.
A Tesla Semi covered the Pepsi colours was spotted being towed in Sacramento, California on Wednesday, according to some photos shared on Reddit. The person who posted the photos did not share the exact location based on a review of the area Drive Tesla able to determine the photo above (photo 2 in the map) was taken at the intersection of Gerber Rd and Power Inn Rd, and the photo below (photo 1 in the map) was taken a little further east at Gerber Rd and Fernbridge Dr.
Both of these locations are less than half a mile away from Pepsi's Sacramento facility at 7550 Reese Rd, where four Megachargers have been installed to keep the fleet fully charged.
Based on the photos we know the tow truck was heading west, away from the Pepsi facility. According to Google Maps this is the direction the tow truck would need to take to get to Giga Nevada, so we presume the Semi was heading back to where it was built so that it can be looked at and possibly fixed.
While it is definitely not great to see a Tesla Semi on the back of a tow truck, the fleet of electric trucks are bound to have issues as PepsiCo is the first customer to take delivery of them and is a testing partner with Tesla. Elon Musk has said his company intends to use them continuously to transport goods between Fremont and Giga Nevada, and that this is "a great test of the vehicle and will give us a great feedback loop for continuing to improve the product."
We have attempted to reach out to the towing company to see if they can provide any further information on the incident but have not received a response at the time of publication. We will update this story if we do.
UPDATE 9:05am PT: Vacaville Tow was not able to provide more information about the incident, only that Tesla dispatched them to tow the Semi.
This isn't the first time we have seen a Tesla Semi and a tow truck. Back in October a white Semi was spotted stranded on a highway onramp just a few miles away from the Fremont factory. A Tesla Service van and a tow truck was also at the scene, although it was unclear if the tow truck was for the Tesla Semi or another diesel semi truck that had veered off the side of the road.
More recently on New Years Eve an eagle-eyed Twitter user spotted another white Semi on a traffic camera in Silver Springs, just south of Giga Nevada. The truck was stranded in a snowy roundabout for several hours before a tow truck appeared later in the evening to haul it away.
$tsla captured the broken Tesla semi getting towed on NYE. https://t.co/X4TcxpDEW3 pic.twitter.com/qMw37WLYvU

— Justin (@Trumpery45) January 1, 2023