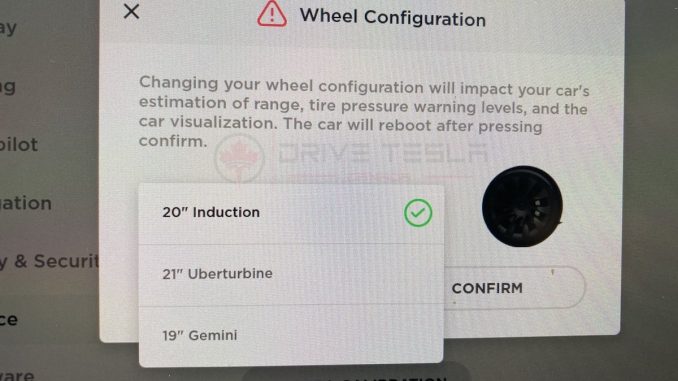 If you have changed the wheels on your Tesla Model Y since taking delivery, the avatar of your vehicle displayed on the touchscreen could not be updated as there was no 'Wheel Configuration' menu available.
Save with big discounts at your favourite Tesla accessories stores, like 10% off at Tesmanian, TesBros and Nikola Pro, plus many more. Coupon codes at DriveTeslaCanada.ca/deals.
Tesla first released the menu in the 2019.32.1 software update last year, but the choices were limited at the time.
In the 2020.24.6.1 software update, new wheel options were added, allowing owners to select everything from the 18″ Aero wheels without the caps, to the new 20″ Zero-G referral wheels.
Despite not being in the release notes of the latest 2020.36 software update, Tesla has quietly added the menu to the Model Y, meaning owners won't have to request a service visit to make the change.
In these images sent to us by a Drive Tesla reader, there are now options for the 21″ Überturbine wheels, 20″ Induction wheels, as well as the 19″ Gemini wheels. Tesla, if you're reading this, please change the menu so they're correctly ordered by size.
Get 10% off at Tesloid.ca or Tesloid.com with coupon code DTC10 at checkout. Quality Tesla accessories with FREE shipping across Canada and the US.
While it's nice to have your avatar match your real car, changing the wheels is also important because a different size wheel will impact the range estimation calculation from the computer, as well as the speed displayed on the speedometer. If your car came with 19″ Gemini wheels and you upgraded to 21″ wheels (Überturbine or aftermarket), your range will be reduced. With this change, your car will now display the correct range estimation based on the option selected in the menu.
Unfortunately you are still unable to display Gemini wheels without the aero caps on them, but that will likely come soon. If you have removed your aero caps there is this workaround to get them to display correctly if you really can't wait for the next update.
We have also been able to confirm thanks to another Drive Tesla reader this software update has not added the ability to display the 19″ Model S Sonic Silver Tempest wheels without the aero covers.