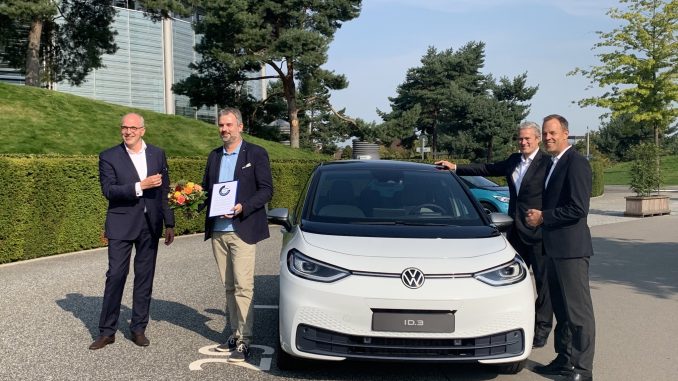 To say Volkswagen has faced a bumpy road with the development of their ID.3 hatchback would be a bit of an understatement.
Originally set to launch earlier this year, major software problems plagued the electric hatchback. The problems were so serious it was thought the first deliveries could be delayed by up to year.
Trying to avoid such a delay, the German automaker pressed ahead saying the first deliveries would likely happen in September. The catch was the car would be delivered missing some key software features, which would come in a future over-the-air (OTA) software update.
VW was able to keep to that timeline, and on September 11, 2020 delivered the first limited edition 1ST to Oliver Nicolai in Dresden, Germany.
Feels great to see the happy faces of our #VWID3 1 ST customers! 😀
I ask everyone else to be patient – the ID.3 is on its way to you! 😉#eMobility #zeroemission #VW pic.twitter.com/0BQ0BaqTiv

— Jürgen Stackmann (@jstackmann) September 11, 2020
The limited edition version of the ID.3 features a larger 58kWh battery pack, giving it a WLTP estimated range of 420 km (261 miles) on a single charge.
Jürgen Stackmann, Board Member at Volkswagen Brand for Sales, Marketing & After Sales, has been sharing information and photos showing large quantities of the ID.3 being shipped to various European countries in advance of the first deliveries. Now that the first ceremonial delivery has taken place, we expect many more to happen in the coming weeks.
All these #VWID3 1STs arrived in #Netherland and are now waiting for their customers! 👍😉#eMobility #FirstMoversClub

(14,5 kWh/100 km (komb.); CO2-Emission in g/km: 0; EEK: A+) pic.twitter.com/9Qwua5UZLA

— Jürgen Stackmann (@jstackmann) September 5, 2020
Here we go! Our #VWID3 1ST models on the way to their customers in #Italy! 👍😉#eMobility #FirstMoversClub @Volkswagen_IT @Volkswagen

(ID.3 1ST:1 4,5 kWh/100 km (komb.); CO2-Emission in g/km: 0; EEK: A+) pic.twitter.com/n9K9bF67VC

— Jürgen Stackmann (@jstackmann) September 5, 2020
Source: InsideEVs