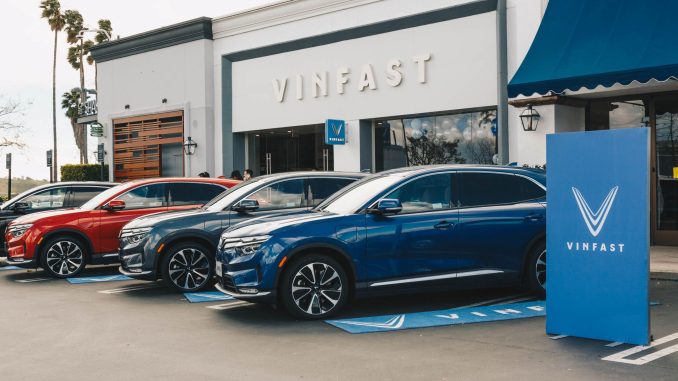 VinFast has finally delivered its first electric vehicles outside of its home country of Vietnam, handing over the first 45 units of the VF8 electric SUV to customers last week in California.
VinFast shipped over their first batch of VF8 SUVs to California last November with the hopes of delivering before the end of the year. That didn't end up happening for a a number of reasons, one of which was software related as the automaker attempted to squeeze out more range after a hugely disappointing 179 miles (288km EPA rated range, a full 100 miles (161km) off their advertised target. They were eventually able to increase that to 207 miles (333km).
Even with a nearly two month delay VinFast was only able to deliver 45 VF8 SUVs to customers last week in California, less than 5% of the 999 that were shipped to the state last year. Gareth Dunsmore, VinFast Deputy CEO, Global Sales & Marketing was a little more upbeat about the first deliveries outside of Vietnam.
"The event drew tremendous attention from our U.S. consumers. It's extremely gratifying in fulfilling our delivery promise and to witness the excitement our customers have for the VinFast brand. This is a great moment for all of us and more motivation to continuously strive to exceed the expectations of our valued customers," Dunsmore said.
VinFast has faced an uphill battle to launch in North America. Along with the range problems mentioned above, the automaker has had to drop its prices in response to Tesla's price cuts. It has also slashed its lease prices, and abandoned plans for a battery subscription model.
It has also merged its US and Canadian operations into VinFast North America, a shift which resulted in numerous jobs cuts in both countries.
VinFast deliveries in Canada are expected to take place in 2023, but there has been no official date provided by the automaker.