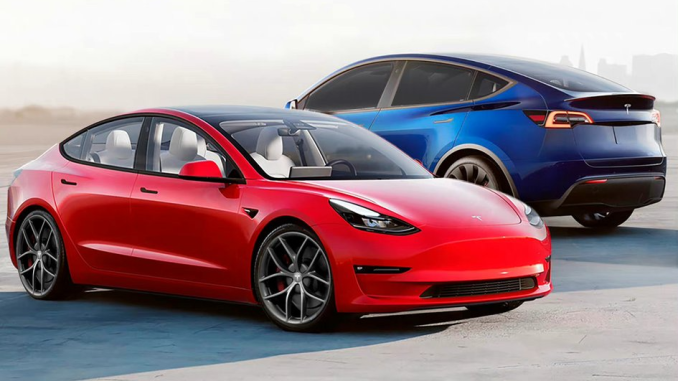 Tesla's website team has had a busy day lowering prices of the Model 3 and Model Y in multiple markets around the world, including in China where prices for the two electric vehicles (EVs) are the lowest they have ever been. Unfortunately prices in Canada and the US have remained the same.
Price Changes in China, End of Temporary Subsidy
Despite denying rumours that they were soon going to cutting prices on the Model 3 and Model Y in China for the second time in three months, Tesla did just that on Friday for all variants of the two EVs.
According to Tesla's website, here are the old and new prices for each variant, along with the lowest price each vehicle has seen in the past.
Model 3 RWD: ¥229,900 (~$45,500 CAD, -12%), previous lowest price ¥235,900 in mid-2021
Model 3 Performance: ¥329,900 (~$65,300 CAD, -6%), previous lowest price ¥339,900 in late-2021
Model Y RWD: ¥259,900 (~$51,400 CAD, -10%), previous lowest price ¥276,000 in late-2021
Model Y Long Range: ¥309,900 (~$61,300 CAD, -13%), previous lowest price ¥339,900 in early 2021
Model Y Performance: ¥359,900 (~$71,200 CAD, -9%), previous lowest price ¥369,900 in early-2021
While they did end up lowering prices, they also ended a temporary subsidy that was just introduced last week which allowed customers to take up to ¥10,000 off their order and was intended to replicate the national NEV incentive that ended on December 31, 2022. The temporary subsidy was supposed to end on February 8 but according to a notice on the Tesla website it was terminated at 9:00am local time on January 6, 2023.
In a post on Weibo Tesla China VP Grace Tao shed some light on today's price adjustments, saying they stem from first principles and the "laws of cost control." In other words, Tesla has been able to increase volume at Giga Shanghai while at the same time lowering costs, essentially keeping their industry-leading margins in tact.
"Behind Tesla's price adjustments, there are countless engineering innovations, which are essentially unique and excellent laws of cost control, including but not limited to vehicle integration design, production line design, supply chain management, and even millisecond level optimization of robotic arm coordination. The route…start from ;first principles' and insist on cost pricing. Respond to the country's call with practical actions to promote economic development and release consumption potential. 2023, let's welcome a better life together." (translated from Chinese)
Price Changes in Other Markets
Here are some of the other price changes in other markets around the world that have been noticed and shared on Twitter by Sawyer Merritt. If prices in your local market have also changed let us know in the comments below or email us at tips@driveteslacanada.ca.
South Korea
Model Y LR: ₩84,999,000 (~$90,800 CAD, -12%)
Model Y P: ₩94,731,000 (~$101,200 CAD, -9%)
Australia
Model 3 RWD: $63,900 (~$58,500 CAD, -2%)
Model 3 LR: $76,900 (~$70,500 CAD, -4%)
Model 3 P: $89,900 ($82,400 CAD, -1.9%)
Model Y RWD: $68,900 (-2%)
Model Y P: $94,900 (~$87,000 CAD, -2%)
Japan
Model Y RWD: ¥5,799,000 (~$58,600 CAD, -10%)
Model Y P: ¥7,509,000 (~$75,900 CAD, -10%)