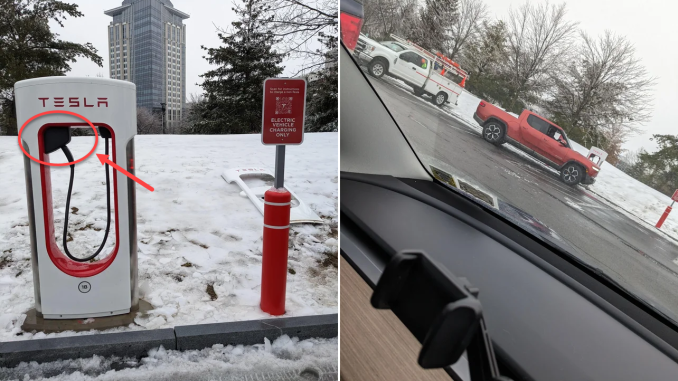 The first Magic Dock has been spotted installed at a Tesla Supercharger in New York. The Magic Dock includes an integrated CCS adapter that will allow other electric vehicles (EVs) to use the Supercharger network.
We have known for some time that Tesla will be opening their Supercharger network to other EVs in the US. They have been doing this in Europe since November 2021, but it is easier there as the CCS plug is the standard in that region. It is more difficult in the US as Tesla uses their formerly proprietary plug now known as the North American Charging Standard (NACS).
To get around this Tesla came up with the Magic Dock, a device which can be easily retrofitted to existing Superchargers. It includes a CCS adapter that can be unlocked for owners of non-Tesla EVs, but keeps the stall usable for Tesla owners as the NACS connector will still be available for them.
Tesla has not officially announced the Magic Dock, but they did accidentally (or on purpose?) leak it in the mobile app a few weeks ago. Today we get our first look at the Magic Dock in the wild after they were spotted at the Supercharger in Verona, New York. We were expecting the first Supercharger to see the Magic Dock installed in California, but this location in New York also makes sense as it is within relatively close proximity to Tesla's Supercharger factory in Buffalo.
According to photos taken and shared by Reddit user u/Fxsx24, it appears as though all 12 stalls have had the Magic Dock added.
Tesla engineers were also on-site testing the Magic Dock with a Rivian R1T, although they declined to confirm or deny what they were doing when asked by the Redditor. However the signs that have been installed alongside each Supercharger don't exactly hide what the new device does – "Scan for instructions to charge a non-Tesla." The sign also includes a QR code which takes you to this page instructing you to download the Tesla app and create account to "Charge your Non-Tesla." However that's as far as you can do at this point and the station has not yet been made available to non-Tesla EVs.
UPDATE 4:05PM PT: Here is a close-up picture of the Magic Dock showing the integrated CCS adapter locked away in the housing.
Magic Dock close up pic.twitter.com/hprq44WVCx

— Domestic Supply of Infants (@No_Jimbo) February 23, 2023
If any of our readers are in the area and can check out the Magic Docks at the Verona Supercharger for us, please send us some photos to tips@driveteslacanada.ca or tag us on Twitter (@driveteslaca).
https://twitter.com/DriveTeslaca/status/1628912710590287872