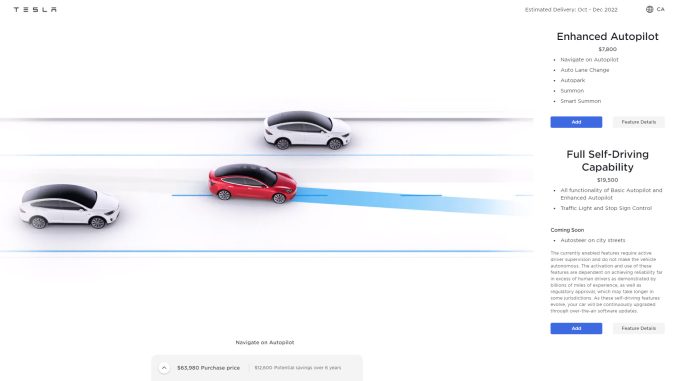 Last month CEO Elon Musk said Tesla was going to be increasing the price of their Full Self-Driving (FSD) Capability package in North America to $15,000 on September 5, 2022. At the time the FSD package was priced at $12,800 in Canada and $12,000 in the US.
Today Tesla followed through on that promise, raising it to $15,000 in the U.S., but increasing it substantially more in Canada to nearly $20,000. And that's before taxes.
FSD Price Increase
According to Tesla's website, FSD Capability now costs $19,500 in Canada, a whopping 52% increase. In the U.S. the increase was less than half that at 25%, now up to $15,000 as promised.
Unfortunately there is still no sign of a FSD Subscription option in Canada, leaving customers north of the border having to pay over $22,000 in some provinces when you take taxes into account.
The big price jump comes after the release of FSD Beta v10.69, and most recently v10.69.1.1 yesterday. The release brought with it a number of updates, which according to Musk were significant enough to warrant an equally significant price increase.
Aside from the now exorbitant price for FSD in Canada, it is even more difficult to stomach considering virtually no one in Canada has received v10.69.1.1, and based on the reviews from those who have received it in Canada, the software has not improved that much.
The other difficult part of the price increase that buying FSD Capability does not guarantee that you will actually get FSD Beta, the one feature that sets it apart from Enhanced Autopilot. Owners still have to go through the Safety Score process, and even then there is no guarantee as Tesla has not added any new testers for months.
However, Musk has said he hopes to have FSD Beta in wide release, in other words to every owner who has purchased the option, by the end of the year.
EAP Price Increase
In a bit of a surprise, Tesla also increased the price of Enhanced Autopilot, but only in Canada. As of today the suite of driver-assist features that closely resembles FSD Capability costs $7,800 in Canada, up from $6,400 yesterday.
What makes this move so surprising, along with the fact they didn't increase the price in the U.S., is that unlike FSD which gets updates and improvements over time, the feature set of EAP has remained stagnant.
Will you be buying FSD at $19,500 in Canada or $15,000 in the US? Let us know in the comments below.