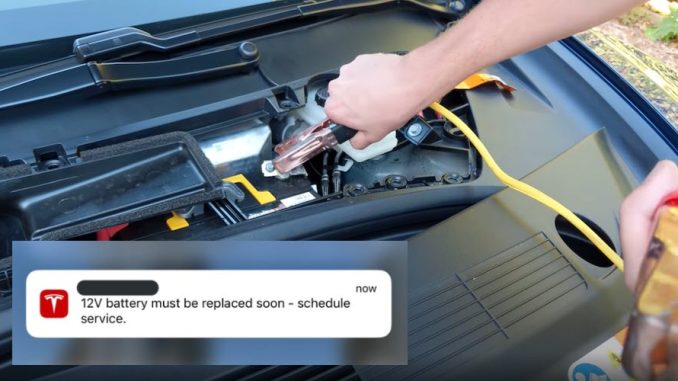 While Tesla vehicles have a large high-voltage battery powering the electric motors, they also still use a traditional 12V lead-acid battery to power many of the vehicle's critical functions. Often the battery can die without warning, leaving owners stranded with a "bricked" car.
To help prevent those situations Tesla has recently enabled push notifications sent to the owner's mobile app to warn them their 12V battery is getting low on power and should be replaced soon.
The notification was spotted by Tesla enthusiast Zack (@BLKMDL3), who shared a screenshot of it on Twitter noting the same functionality would be helpful for other important alerts like when you low tire pressure (tire pressure readings were just added to the mobile app).
We are not exactly sure when this notification was added, but several users commented that they had also received it a few months earlier.
This is new! @Tesla now sending push notifications when 12V battery needs to be replaced! Really smart, hope they add push notifications when you have low tire pressure or other important alerts @elonmusk pic.twitter.com/BO35pJMI5J

— Zack (@BLKMDL3) September 11, 2022
Tesla owners have been waiting a while for improvements to the problem of the 12V battery dying unexpectedly.
Back in 2020 Musk said "major software improvements [were] already in place" to extend the life of the 12V battery, at the same time promising more was coming.
Since then there has been no mention in any software update that more has been done to extend the life of the 12V battery, but Tesla often make improvements and enhancements without including them in the release notes.
Tesla has also taken another step to help prevent this issue, deciding to ditch the lead-acid battery entirely and instead use a 12V lithium-ion battery in their vehicles. This new lightweight battery is expected to have a much longer lifespan than the lead-acid battery.