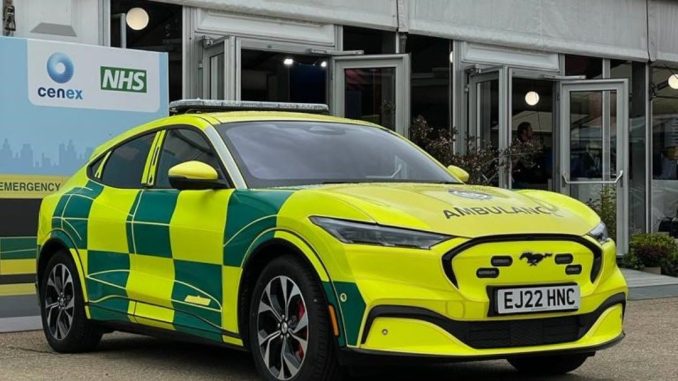 The trend of law enforcement and emergency services switching to electric is not slowing down. The latest to join the growing trend is the London Ambulance Service, which recently replaced one third of their fleet with the Ford Mustang Mach-E.
Ford unveils the first purpose-built EV for police operations.
According to a report by Ford Authority, the London Ambulance Service added a total of 42 Mach-E's to their fleet. They have been converted by removing the rear seats to accommodate patients and paramedic workers.
The modification included plastics in some places to reduce weight.
The EVs each feature LED lighting to draw less power from the battery. The electronics are powered by a secondary battery located in the rear. Operators can monitor the battery charge level through a smartphone app.
Rob Macintosh, head of fleet for London Ambulance Service HTS Trust, said:
"We have 150 cars, so this replaces nearly a third of the fleet in one go. (The Mustang Mach-E ambulances) will replace our non-ULEZ-compliant cars. As a health care provider, we want to lead the way in reducing our carbon footprint, getting to zero tailpipe emissions as quickly as possible."
Law enforcement, in particular, has gone for the Mach-E big time, including Dearborn Police in Michigan and San Antonio Police Department.
Other police departments, including Bolder City, Bridgewater, and British Transport Police, have added Tesla EVs to their fleets.