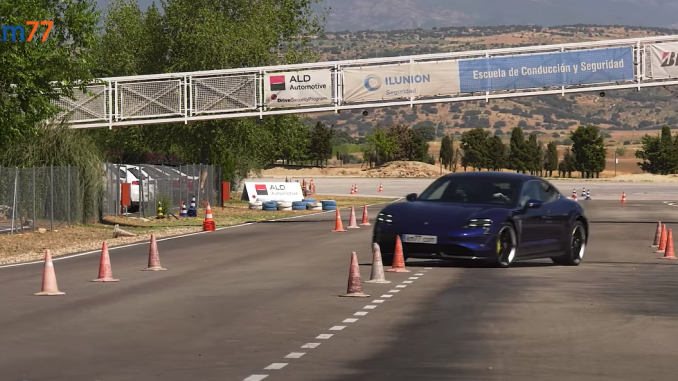 If you haven't heard of the Moose Test, it's not a middle-school test that Canadian children have to pass before they can move into high-school.
Instead it is actually a test to see how well a vehicle can miss a suddenly appearing obstacle – like a moose on the road.
Last year km77.com performed the Moose Test on the Tesla Model 3, and it passed with flying colours, achieving its highest speed of 83km/h (52mph) without hitting any of the cones.
They were recently able to put the Porsche Taycan Turbo S through the same test – will it able to beat the speed of the Model 3?
Let's look at the stats first. For a fair comparison of price, we'll use the most expensive Performance Model 3. It starts at $74,990 CAD, still nearly 1/3 cheaper than the Taycan Turbo S, which starts at an eye-popping $213,900 CAD.
If you were to ask most people, they would say the Porsche would and should handle better than the Model 3. Porsche is an automaker with a racing background, and the Taycan is considered an electric sports car with supercar performance.
So how did it perform? After many failed attempts with two different drivers, the Taycan Turbo S was able to successfully manoeuvre through the cones at a top speed of 78km/h (48mph), 5km/h slower than the Model 3 last year.
The successful run was done with Sport Plus mode on, which according to the drivers significantly reduced body and roll and improved the handling of the electric sedan through the cones, helping it pass the test.
Check out the full video below.