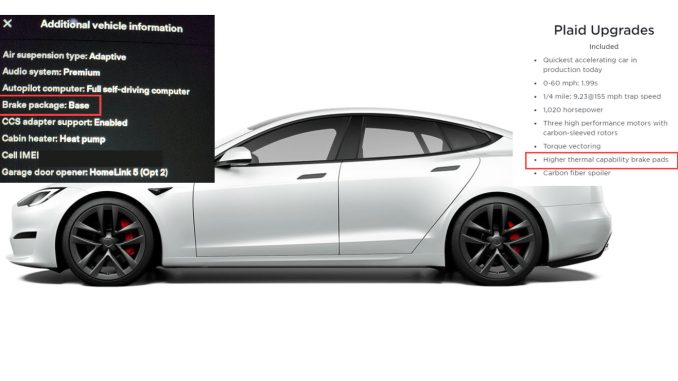 Tesla has updated their Design Studio to correct the description of the upgraded brake packages for the Model S and Model X Plaid to now say they with upgraded brake pads and not upgraded calipers. Perhaps more importantly for owners the company has also updated the information shown on the in-car display on the Model S Plaid, hinting that the delayed Carbon Ceramic Brake Kit might finally go on sale soon.
On January 5 Tesla announced a big change to the Model S and Model X with the addition of the round steering wheel as a standard feature on both of the flagship vehicles, making the controversial yoke steering wheel an optional choice in the ordering process. Along with the steering wheel change Tesla also updated the wording for the Model S/X Plaid upgrade package to include mention of "higher thermal capability brake calipers." The change also brought back the red calipers, leading everyone to believe Tesla did actually upgrade the calipers.
As it turns out it appears as though it wasn't the calipers that were upgraded after all. As spotted by TMC forum member soyoungman, as of Monday the description now says both the S and X Plaid have "higher thermal capability brake pads," with all mention of the calipers removed.
But that wasn't the only change Tesla made on Monday as there is a new addition to the "Additional Information" screen on the in-car display which now shows 'Brake package: Base' for existing owners. This was a server side change and required no software update for it to appear and was confirmed by one of our readers @EndlessPlaid who shared this photo with us.
This addition leads us to believe that Tesla is about to release their long-awaited Carbon Ceramic Brake Kit for the Model S Plaid, which will also finally unlock the advertised 200mph (322km/h) top speed. The $27,500 CAD/$20,000 USD accessory was originally added to the Tesla Shop in late 2021 and had a launch date of mid-2021. After that date came and went the description was most recently pushed back to "early 2023," which is still the date that appears on the product listing page.
You can read more about the Carbon Ceramic Brake Kit below.
Tesla Model S Plaid Carbon Ceramic Brake Kit added to online shop