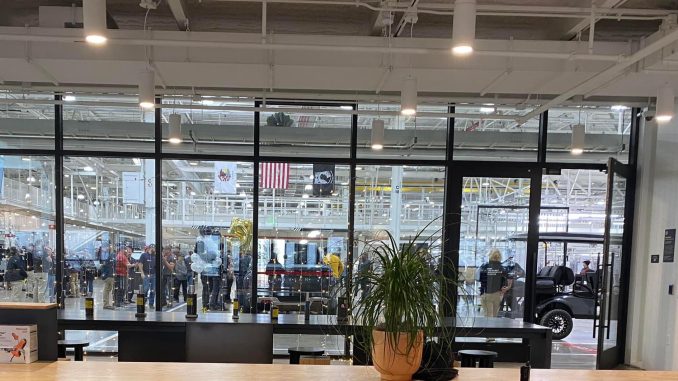 Rivian had to produce over 14,000 vehicles in the final quarter, nearly double what they produced in the previous quarter, to reach their 2022 production guidance of 25,000 units. Despite the tall order, it looks like Rivian was able to reach that target on the final day of the year.
Rivian started production of the R1T in September 2021 and struggled to ramp production, building just 1,015 units through December 31. Despite the slow start the fledgling automaker kicked off 2022 with the hopes of building 50,000 vehicles, but by March that number was halved to 25,000 with Rivian citing "significant supply chain limitations" as one of the reasons for the tempered outlook.
Even with the lower target, Rivian looked like they were not going to be able to reach it, producing 14,317 vehicles through the first three quarters, meaning they would have to produce 10,683 vehicles in the final three months of the year to reach 25,000 units.
Based on a photo from inside the Rivian factory in Normal, Illinois, it looks like they were able to do that on the final day of the year. In the photo we can see helium balloons, two of them in the shape of what looks to be a '5' and a 'K', and a number of employees surrounding a newly built R1T electric truck. The photo was shared on Facebook by an individual who said they were "at the right place at the right time" and captured the celebration while picking up his R1S from the Normal service center on December 31, 2022.
Rivian has yet to confirm their official numbers, but we should see an announcement from the automaker in the next few days as they typically announce their quarterly production and delivery figures in the first week of the following month.
Rivian's Q4 report will for the first time include some deliveries from Canada. The automaker kicked off deliveries north of the border in October, starting with some employees in Vancouver, British Columbia before expanding to external customers in November and December. Rivian plans to expand further and begin deliveries in Alberta, Ontario, and Quebec this year.
Rivian confirms it has completed repairs on most recalled vehicles