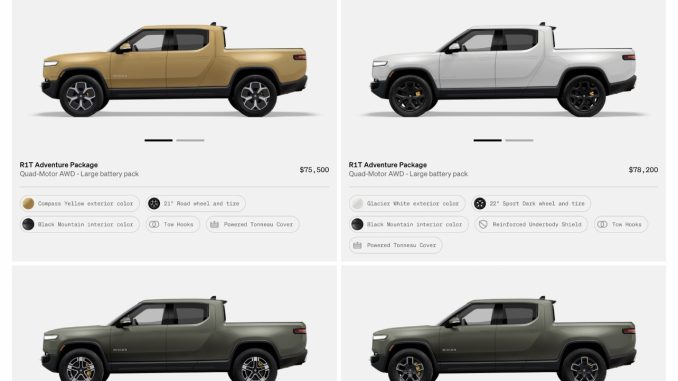 Struggling through a difficult production ramp that has seen delivery wait times extend well into 2023, Rivian is giving some early reservation holders the opportunity to take delivery much sooner.
The catch is they have to buy from existing inventory from the newly launched and by invitation only "R1T Shop," which means they might not get the exact configuration they ordered.
According to an email sent to RivianForums user M00v0vr who placed his reservation in October 2019, customers who purchase from the R1T Shop can take delivery in "6-8 weeks or sooner."
Upon clicking the link included in the email, customers are presented with real-time inventory with filters available for "Color, Wheels, Interior Color, Tow Hooks, Underbody Shield, Tonneau cover and Spare Tire."
The RivianForums user said there were as many as 16 R1T electric trucks available at any one time.
There is also another catch, and that is you only have one week to make up your mind before your R1T Shop access is revoked. If you are lucky enough to get the email, your R1T Shop expiry date will be in fine print at the bottom.
Some members of the RivianForums noted there was some key information missing from the listings.
One of those was each individual truck's VIN, an important piece of information as some buyers might not want an early build from Rivian's facility in Normal, Illinois.
The other was the truck's location. According to M00v0vr, the R1T he selected will have to be shipped across the country from the "right coast to the left coast."
Lucid and Rivian CEOs received almost $1 billion in combined compensation last year
Source: RivianForums