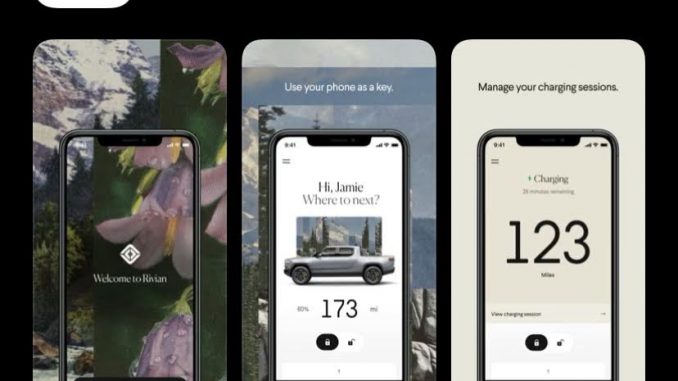 In another sign Rivian will deliver the first vehicle very soon, the automaker's mobile app is now live on both the iOS App Store and Google Play Store.
Although all of the features are currently unavailable without any cars in customers' hands, there are a number of hints of what's to come based on the official screenshots in the app description.
As was to be expected, the app doubles as key for the R1T (and R1S when it is released later this year). With the app you can also lock and unlock the car. Unlike Tesla's mobile app you can see the current state of charge and remaining range at the same time.
There is more below this if you scroll up within the app, and this is likely where you will be able to control other basic functions of the car like HVAC, windows, etc.
Another difference from the Tesla app is the ability to add keys for other drivers directly from within the Rivian app. Tesla owners have to log in to their Tesla account in a web browser to perform the same function.
The app also allows owners to search for nearby charging stations. According to the screenshot shared by Rivian, the app will tell you how far away the charger is and provide a link to view the site, most likely on a map. The company plans to create the Rivian Adventure Network with more than 3,500 DC fast chargers across the US and Canada.
Rivian owners will also be able to contact Roadside Assistance directly through the app.
Another feature within the app is the ability to pair with your Rivian home charger (h/t: The Kilowatts).
Rivian appears to be gearing up for the final stretch and begin deliveries of the first R1T electric pickup truck. Earlier this week the first customer-ready R1T rolled off the production line at their manufacturing facility in Normal, Illinois.
The Rivian Membership was also announced earlier this week giving owners unlimited charging, 4G connectivity, and other perks for free for a limited time. Customers will then have to pay an unspecified monthly fee after the trial period expires.