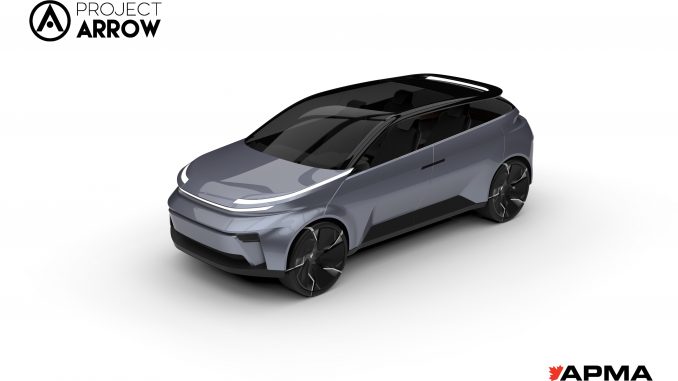 An electric vehicle concept designed by a group of students from Carleton University will soon become reality as part of Canada's Automotive Parts Manufacturers' Association's (APMA) Project Arrow.
The group of four students from the university's School of Industrial Design in Ottawa beat out 20 other entrants from across Canada with their 'Traction" concept EV. The design, completed in just 12 weeks, will now be used to create a full concept vehicle.
"We feel privileged to be making our mark on the growing Canadian auto industry while playing our part in pushing towards a zero emissions future. We designed this vehicle to represent what Canada is all about and can't wait to see it on our roads someday," said Kaj Hallgrimsson from Carleton University in a press release.
The APMA first announced at CES 2020 earlier this year their intention to build an electric concept vehicle within two years. The EV would be designed, engineered, and built entirely in Canada.
Project Arrow will now move into the engineering phase. The first step will be to create a virtual model, which will be done at the WindorEssex Economic Development Corporation's virtual reality CAVE.
"The [virtual reality] CAVE is a tremendous asset for our community and partnerships like this put a flag in the ground that Windsor-Essex is the automobility hub in Canada," said Stephen MacKenzie, president of the Windsor-Essex Economic Development Corporation.
After opening for design submissions in January, the APMA approved 9 nine submissions in June to move to the evaluation stage. That was narrowed down to 3 finalists who were selected by a panel of diverse industry experts.
The virtual concept is expected to be unveiled early next year, with physical concept vehicle produced by 2022.
When @JustinTrudeau challenged us to imagine a zero emissions future, we launched https://t.co/0kihm0nq3W, an all-🇨🇦, lightweight, zero-emissions concept vehicle.

Today we put a face on Canada's Vehicle of the Future.@fordnation challenged us to build it. Just watch us. pic.twitter.com/zXxBVrfQOr

— Flavio Volpe (@FlavioVolpe1) October 13, 2020