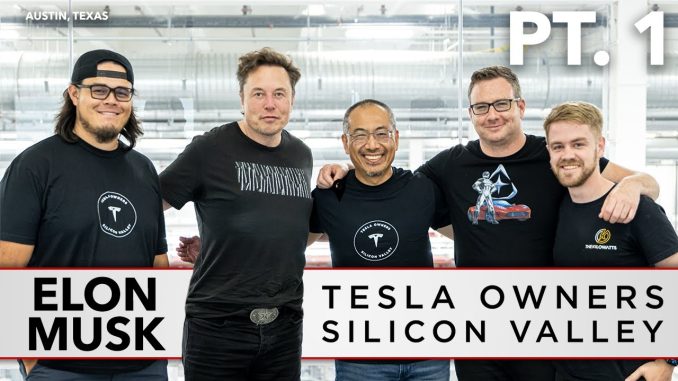 After accepting a request on Twitter, Tesla CEO Elon Musk sat down this week for a four-hour long interview with Tesla Owners Silicon Valley President John Stringer.
Part 1 of the 3 part series was released on Twitter today, where Stringer, along with Club Vice President Kelvin Gee, Tesla Owners Club My Tesla Adventure President Eli Burton, and Ryan Levenson from The Kilowatts behind the camera, discuss many of the growing pains in the early days of Tesla.
The video is broken down into chapters where Musk talks about supply chain issues, what got him into electric vehicles, his days at Stanford, as well as setting the record straight (again) on who actually founded Tesla.
According to the video description, parts 2 and 3 of the interview will be released soon and will be more focused on Musk himself.
You can watch the full video below, or click on any of the chapter links to be taken to that part of the interview.
0:00 – Understanding Supply Chain
1:54 – Introduction
2:21 – Why Electric Vehicles
9:09 – Studying Energy Storage at Stanford
15:05 – Who Founded Tesla
34:10 – Founding Zip2
38:24 – Tesla Founder Departures
49:52 – Roadster Engineering
1:01:03 – Funding Tesla