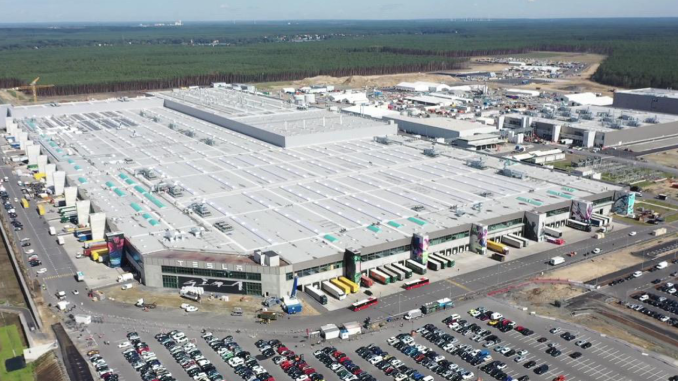 Tesla has recorded many achievements in German since it officially opened Giga Berlin. However, the company has been accused of coasting on the bias of politicians impressed by its contribution to Europe's transition to sustainable transportation.
Brandenburg residents and environmental groups have criticized prominent politicians, including the Prime Minister of Brandenburg, Dietmar Woidke, and Economic Minister Jorg Steinbach. The politicians allegedly give special treatment to Tesla.
Tesla has been in the news for the wrong reasons lately. When it became known it had driven piles into the ground without obtaining a permit, it responded by creating an internal department to deal with permits.
Tesla is also facing roadblocks to its planned expansion of Giga Berlin due to potential water and electricity shortages. However, Woidke assured the EV maker that local government officials would resolve the issues.
It was this assurance that has perplexed residents and green groups. NABU Brandenburg, Green League Brandenburg, and VNLB have written to Woidke accusing him of giving preferential treatment to Tesla. "Mr. Woidke, is your letter to Tesla normal practice in your prime minister in Brandenburg? We want answers!," the groups write in their letter. (via Tagesspiegel)
The groups go on to say Woidke's recent assurance that Giga Berlin's expansion would go ahead "triggers horror and incomprehension among many people in Brandenburg and especially among members of the nature conservation associations." The group also claimed Tesla is one of the largest emitters of CO2 in Brandenburg, asking how the fact is compatible with the state's environmental goals.
Steinbach, however, denies Tesla is getting preferential treatment, despite being a long-time supporter of the company. "We are interested in the project succeeding. Of course, that also applies to the expansion, just as it did back then for the settlement. There is no special treatment for Tesla," he said. (via Teslarati)
Despite Tesla's tremendous contribution to the local economy, they are still facing pressure from environmentalists. Last week two criminal charges were filed accusing the automaker of illegal construction work and potentially impacting the region's drinking water.