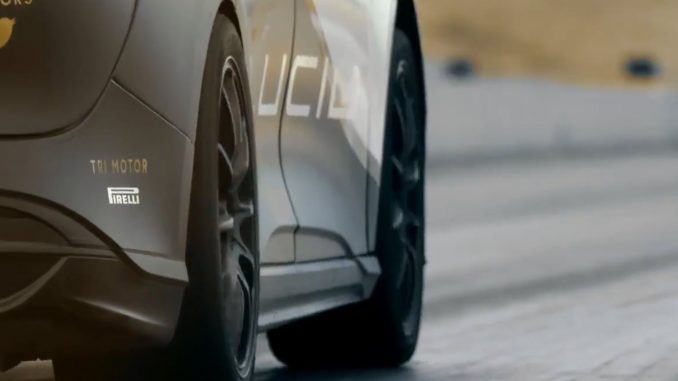 Since last week Lucid has been teasing a big reveal of a new Air variant, planning to take off the covers during Monterey Car Week on August 19. Leading up to the event, the automaker has released several teasers that all but confirm it will a tri-motor variant of the luxury electric sedan.
The hints first began on August 11 with an image of the start lights at a race track with the caption "Blue means go."
Blue means go. Monterey Car Week.
8.19.22. #BlueMeansGo #DreamAhead#MontereyCarWeek pic.twitter.com/GnW5XpxZYS

— Lucid Motors (@LucidMotors) August 11, 2022
While that wasn't overly helpful, that has since been followed by a series of tweets all showcasing the number 3.
There was a picture of CEO Peter Rawlinson surrounded by factory staff, all holding up three fingers to the camera. If that wasn't obvious enough, they then shared another tweet with the caption "three is the magic number."
What seems to have been lost in the obviousness of the hints for a tri-motor variant is that the company will also be adding a new colour to their lineup. As hinted at by the very first tweet, Drive Tesla has received information from a source that the tri-motor variant will be available in blue.
UPDATE August 18 10:20am PST: Lucid has now confirmed the new colour, calling it Sapphire Blue.
Introducing an entirely new shade of speed. Tomorrow at The Quail. #BlueMeansGo #DreamAhead pic.twitter.com/CQO0w5STWD

— Lucid Motors (@LucidMotors) August 18, 2022
Lucid currently only offers five  colours – Zenith Red, Quantum Grey, Cosmos Silver, Infinite Black, and Stellar White.
Ahead of the official reveal, here's what we know so far about the Lucid Air tri-motor variant.
Based on the performance of a prototype version in 2020, the tri-motor Lucid Air should be able to cover the quarter mile in just over 9 seconds, coming close to matching the time of the Model S Plaid.
The speculation is that the three motors will generate as much as 1,400 horsepower, nearly 300 more than the already very fast Air Dream Edition, which comes with 1,111 horsepower.
Despite struggling to produce cars to meet the current level of demand, Lucid will also be introducing a new styling option for the Air next year called "Stealth." The new exterior design ditches all of the chrome aspects of the car and replaces them with an all-black finish, all for $7,500 CAD or $6,000 USD.