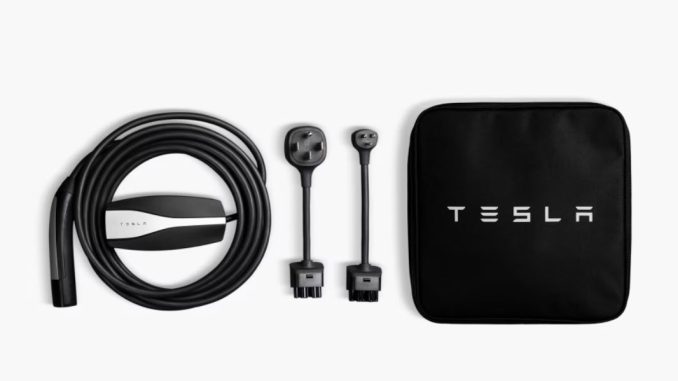 Earlier this year Tesla decided to stop providing Mobile Connectors with all new vehicle orders, instead making it an option during the purchase process. The change was effective for all cars purchased on or after April 29, 2022.
With Tesla's long delivery wait times, many customers who placed an order before that date are still expecting to receive a Mobile Connector when they finally take delivery.
That has now changed, and Tesla is instead issuing promo codes to customers to cover the cost of purchasing one on the Tesla Shop.
According to email sent to employees obtained by Drive Tesla, promo codes will only be issued to owners who placed an order before April 29 and take delivery of a car built on or after August 15, 2022. The promo codes will be sent in advance of delivery, but the automaker did not specify how many days before delivery this will happen.
All vehicles built until August 14 will continue to receive the Mobile Connector.
Tesla says the promo code can be used to cover the full cost of the Mobile Connector, or be used towards the purchase of a Wall Connector.
The email did not specify if Canadians will also receive a promo code, or how much it will be. If they follow the same guidelines, Canadians should receive one for $255.
Since this change is so new it is likely that no one has received a promo code yet. If that's not the case and you have, let us know in the comments below.