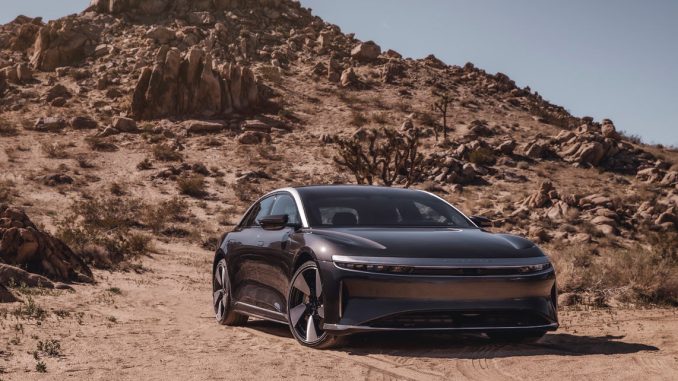 Lucid got 2022 off to a rough start by slashing its annual production guidance from 20,000 units down to 14,000, then again to between 6,000 and 7,000 units. It looked like Lucid was going to struggle to even meet that lowered target, but the fledgling automaker ended the year on a positive note.
According to a press release this morning Lucid says it was able to increase production 53% in Q4 compared to the previous quarter, rolling 3,493 vehicles off its production line in Casa Grande, Arizona.
That puts Lucid's 2022 production at 7,180 vehicles, just over their lowered target by 180 vehicles. However, this number is still well below the factory's installed capacity, which according to Lucid is 34,000 vehicles per year.
Despite the increased production, Lucid is still struggling to get those vehicles into the hands of customers. During Q4 Lucid delivered 1,932 Air sedans, or just 55% of them. This continues a trend we have seen throughout 2022 where production significantly outpaces production.
As noted Lucid produced 7,180 vehicles in 2022, but delivered just 4,369 (60%) of them throughout the year, leaving them with an inventory of 2,811 cars at the end of the year.
Lucid should provide more information when it reports its financial results on February 22, 2023. At that time we except the automaker to provide its 2023 production guidance, which based on their Q4 performance should hopefully be higher than 7,000 vehicles.
Lucid raises $1.5 billion as it lowers base price of Air Grand Touring variant