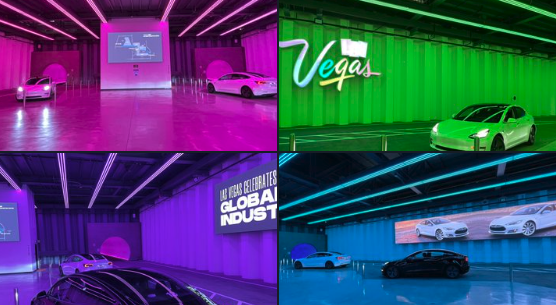 The Boring Company first began construction of the Las Vegas Loop in November 2019. Originally scheduled to open during the Consumer Electronics show in January, COVID-19 related delays meant that didn't happen.
With construction now complete, local media were invited underground to get their first look at the underground people mover.
Outfitted with LED lights that change colours, the underground stations were abuzz with 11 Tesla vehicles ready to give media rides through the twin 1.28 km (0.8 mile) tunnels.
For safety the cars were limited to a top speed of 35mph (56km/h), but are expected to travel much faster than that when it officially opens. The cars also had drivers behind the wheel, but will eventually travel the tunnels autonomously.
Related: Up Close Look at The Boring Company's LVCC Loop Station #1 and Tunnel in Las Vegas
According to Steve Hill, president and CEO of the Las Vegas Convention and Visitors Authority, the fleet will expand to as many as 60 Tesla vehicles. Hill even hinted that vehicles with a capacity of 16 passengers could be used in the future.
Here are a few videos from the event.
Footage of what it looks like when a @Tesla is traveling through the @boringcompany's Convention Center Loop. #vegas #boringcompany pic.twitter.com/ph1DJoTYBi

— Mick Akers (@mickakers) April 9, 2021
A parade of @Tesla cars underneath the @LVCVA convention center. We get a first look at the underground transportation system. We'll go for a ride at 11 @News3LV pic.twitter.com/toqpWvRbiD

— Jeff Gillan (@jgillanNews3LV) April 9, 2021
At full capacity the Boring Company's Convention Center Loop can transport 4,400 people per hour in its 62 vehicles fleet. This June's World of Concrete show will be its first big test. #vegas #boringcompany #elonmusk pic.twitter.com/LX6xtEFtth

— Mick Akers (@mickakers) April 9, 2021
Here's the escalator ride down into Central Station of the Boring Company's Convention Center Loop. #vegas #boringcompany #elonmusk pic.twitter.com/RS0g3AuPKO

— Mick Akers (@mickakers) April 8, 2021
Looking into one of the tunnels of the Boring Company's Convention Center Loop. #vegas #boringcompany #elonmusk pic.twitter.com/e7ilc6ZmgQ

— Mick Akers (@mickakers) April 9, 2021
Source: Review Journal