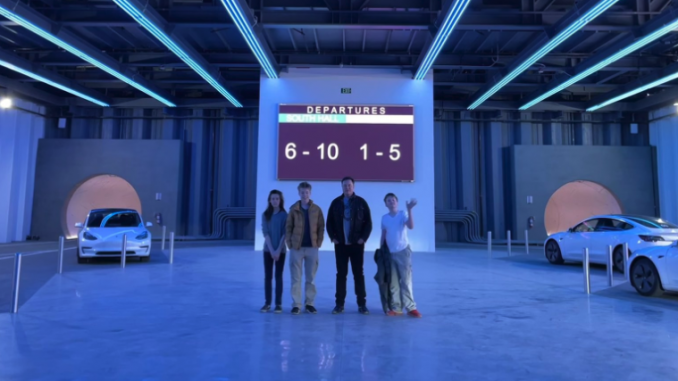 The Boring Company's Las Vegas Loop tunnels are nearly complete, and when they finally open to the public Elon Musk will host a Fallout-themed party to celebrate.
Musk made a special trip on Saturday to check out progress at the tunnels under the Las Vegas Convention Center, arriving in Sin City just before 8:00pm.
Landed in Las Vegas, Nevada, US. Apx. flt. time 0 Hours : 34 Mins. pic.twitter.com/k78Km5vEfZ

— Elon Musk & SpaceX's Jet (@ElonJet) January 24, 2021
Less than two hours later he was on his way back to Los Angeles, but not before snapping the above photo with his kids in one of the subterranean stations. Musk also said the company will host their Fallout-themed opening party as soon as COVID restrictions allow.
Fallout-themed opening party for Vegas Loop happening as soon as allowed!

— Elon Musk (@elonmusk) January 24, 2021
Crews have been working had to put the finishing touches on the tunnel network. Over the course of several days last week multiple Tesla vehicles were seen entering and exiting the tunnels, several of which were in the station when Musk visited on the weekend.
It was a busy day at the @boringcompany Las Vegas Loop tunnels yesterday. Lots of testing going on, in addition to the testing we saw last week. @elonmusk will we get an unveiling soon?https://t.co/VlCmDv4VAH pic.twitter.com/26HCsfmHxV

— Drive Tesla 🇨🇦 #FSDBetaCanada (@DriveTeslaca) January 21, 2021