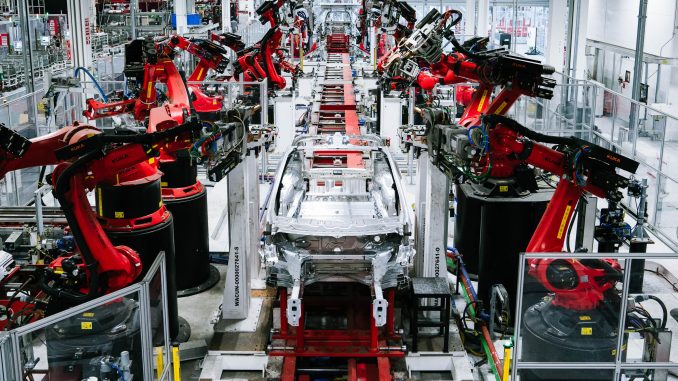 In Tesla's run up to becoming to most valuable automaker in the world, a common talking point among critics was their relative infancy in the automotive world.
With limited early production and not reaching more than 100,000 cars built in a single year until 2017, it was said that Tesla would never be able to compete against the likes of Volkswagen, Ford, and others that had as much as a century or more of experience in the business of making cars.
Part of this is because manufacturing is extremely difficult, something which Tesla CEO Elon Musk has not been shy to admit. But it appears that after just more than one decade of trying, Tesla has been able to surpass the biggest automakers in manufacturing efficiency.
And legacy automakers are starting to take notice.
One of those is Volkswagen, which held a "crisis meeting" last week with 120 of the top managers to discuss the incoming competition from Giga Berlin, which was described as "brutal."
During the meeting, hosted by VW CEO Herbert Diess and brand boss Ralf Brandstätter, the company revealed Tesla has set a new standard, able to build a Model 3 in just 10 hours.
That is more than three times as fast as VW can build their ID.3 electric hatchback. (via Business Insider)
That level of efficiency also results in cost savings, putting them far ahead of the pack when it comes to productivity and profitability.
As a result of Tesla's lead, Brandstätter is pushing for VW to accelerate their shift to electrification through Project Trinity at their main plant in Wolfsburg to 2024, two years earlier than originally planned. He hopes that by doing so, VW will not lose out to Tesla and Giga Berlin.
"However, the previous drafts for the project do not go far for the board. The executive floor demands much more radical solutions to save the Wolfsburg location. In the end, it's also about the jobs that we have here. Mr. Diess, the supervisory board or the employee representatives do not decide on the jobs. The customer decides about this and the customer buys the product that offers more quality, more features for a better price. That is why we have to take up the fight, attack and not let [Giga Berlin] destroy our location," Brandstätter said.
VWs level of concern might be even higher today than it was last week, since the meeting was held on Friday, before Tesla released their Q3 2021 production and delivery numbers. Despite a global chip shortage that saw almost every automaker report double digit declines in sales, Tesla was able to increase theirs by 73% year-over-year, and more than 20% from the previous quarter.
All this before their new factories in Berlin and Austin come online later this year.