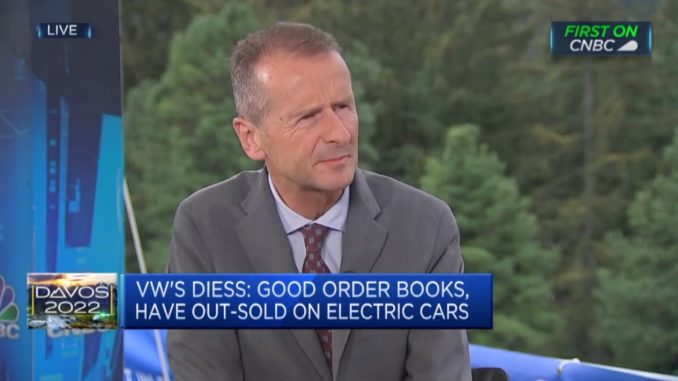 Volkswagen Group CEO Herbert Diess said during an interview on CNBC's "Squawk Box Europe" that his company still intends on overtaking Tesla to become the world's electric vehicle (EV) sales leader by 2025.
Diess made the comments while at the World Economic Forum in Davos, Switzerland, the same location where he first made the same prediction two years ago, but without giving a firm date at the time.
During the interview, Diess noted that once the ongoing semiconductor supply chain issues are fixed, which he expects to improve but not be fully resolved by the end of the year, VW should gain some momentum while Tesla ramps production at two new factories.
"I think for Tesla, also, ramping up now will probably be a bit more challenging. They are opening up new plants and we are trying to keep up speed. We think in the second half of the year, we are going to create some momentum," Diess said.
Diess also noted why he thinks Tesla is valued so highly when compared to legacy automakers, like VW, even though they sell far fewer vehicles.
Markets are always about the future. Tesla currently is in the lead when it comes to EVs, probably also it is the most digital car company already and they have some advantages. We are still aiming at keeping up and probably overtaking by 2025 when it comes to sales."
If anyone is able to overtake Tesla, whether it be by 2025 or later, it could be VW. Elon Musk recently said the German automaker was in second place when it comes to making a serious effort to shift to electrification.
You can watch the interview below.