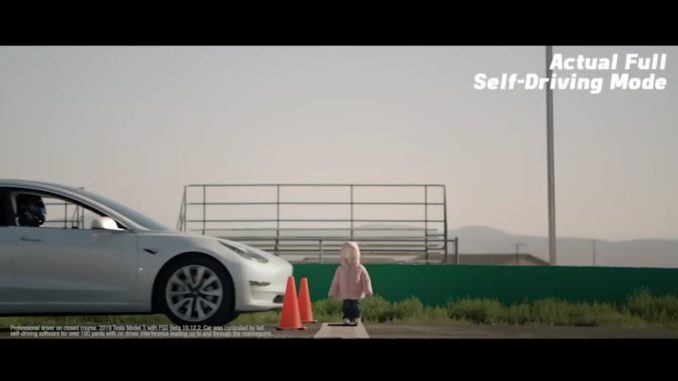 Self-proclaimed "safety engineer" and president and CEO of Green Hills Software Dan O'Dowd has taken a very public stance against Elon Musk and Tesla's Full Self-Driving (FSD) Beta feature.
Earlier this year 'The Dawn Project" took out a full-page ad in the New York Times calling FSD Beta "the worst software ever sold by a Fortune 500 company."
With O'Dowd running for Senate, he has taken his criticism up a notch by spending tens of thousands of dollars on a national ad campaign, again targeting FSD Beta. The 30-second spot shows a 2019 Model 3 with FSD Beta active "mow[ing] down children" at Willow Springs rack track in California, urging viewers to "tell Congress to shut it down."
In one section of the video it shows the test driver doesn't actually engage the feature, as the Autopilot steering wheel does not appear in the top left corner of the screen, and the course prediction line doesn't turn blue, both of which happen when the feature is active.
Electrek spotted this and reported this as proof the feature wasn't active during the test.
When contacted for comment by
Electrek
, The Dawn Project provided an affidavit that safety driver Art Haynie signed claiming the feature was active, but did not provide any other video evidence to back up the assertion.
However, Drive Tesla reviewed The Dawn Project's website and found raw footage showing FSD Beta was actually active at the time of the collisions in the three tests reported. The footage isn't the best but it is clear that the Autopilot wheel and the path prediction line are both blue, indicating FSD Beta was active.
You can also see the car moving without any input from the driver in the raw footage below.
While the video does show FSD Beta was active, it does seem strange that O'Dowd and his team would go to this much effort and expense to only run three tests. Willow Springs only allows either full-day or half-day rentals of their track so it seems unlikely his team would only complete three tests given that each one takes about 15 seconds to complete, not of course taking into account the time it takes to reset for each run.
In the affidavit signed by Haynie, he appears to indicate more than just three tests were conducted by saying "during three (3) of the tests…" (emphasis added).
If The Dawn Project did only rent Willow Springs for half a day, the group should release the full results of all of the tests conducted that day. Additionally, they should also attempt to recreate the tests on a real road as their own safety driver says the car appeared "confused" travelling through the traffic cones on a race track.
"During the June 21, 2022 test drive, the 2019 Tesla Model 3 with Full Self-Driving Beta 10.12.2 would generally start out at forty (40) miles per hour in full self-drive mode and start to stagger as if lost and confused, slow down a little, and then speed back up as it hit and ran over the mannequins, going over twenty-five (25) miles per hour when it hit the mannequins. Sometimes the speed at impact would be faster or slower than the twenty-five (25) miles per hour."
This leads to the question of why only publish three test results, if this was consistently happening each time the Model 3 went down the make-shift lane on the race track over the course of at least half a day.
The answer to that may lie in videos shared by one FSD Beta tester who attempted to recreate O'Dowd's test on a public road with a carboard cutout of a child.
In several tests the Model 3 easily avoided hitting the child when it was either stationary in the road or moving across it.
https://twitter.com/tesladriver2022/status/1557363740856778755
Street view / angle @elonmusk @WholeMarsBlog @Kristennetten @Kristennetten @DirtyTesLa @chazman @teslaownersSV #fsdbeta pic.twitter.com/RAFR5x4D7s

— tesladriverperson (@tesladriver2022) August 9, 2022
After seeing the wildly contrasting video evidence from O'Dowd and @tesladriver2022, something appears to be missing. There have been numerous other videos shared on social media of FSD Beta reacting to pedestrians, as well as videos from NCAP and NHTSA as part of their safety tests.
As someone who personally has FSD Beta, and as anyone who has used FSD Beta would tell you, the feature is, if anything, too cautious around pedestrians. Hopefully O'Dowd will follow our suggestions and release the full results of all the tests conducted that day, as well as try it on a real, closed-off section of public road.