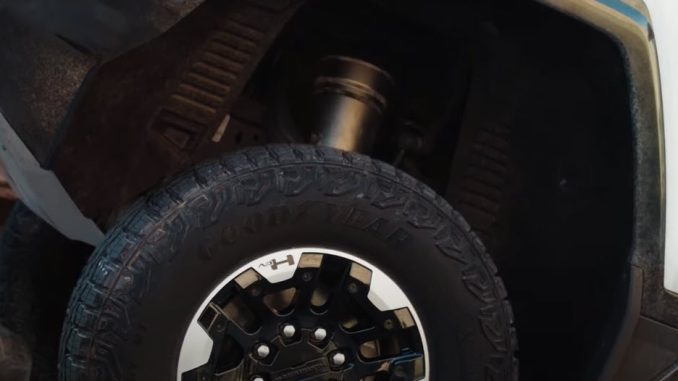 If you are one of the few GMC Hummer EV First Edition owners, you will soon be getting a new feature through a free over-the-air (OTA) software update – Extract Mode.
As the name implies, Extract Mode will come in handy if you find yourself in a tricky situation while taking your 9,000lb electric SUV out for a day on the trails by raising the air suspension an additional six inches to help clear obstacles along your path.
With the feature activated to the highest setting, the Hummer EV has a ground clearance of 15.9 inches.
GMC  says the feature can only be used at low speeds, and if you use the feature too many times in a short period of time, you may need to wait a while for your the adaptive air suspension system cools off before it can be used again.
Extract Model will be sent out to existing Hummer EV First Edition owners in the coming weeks. The automaker says the majority of owners will receive the feature OTA, but some will have to take their Hummer EV into a dealer as they changed the ride height sensor since starting production last year.
Future Hummer EV owners will also get the feature if their electric truck is equipped with air suspension.
Here is how GMC says you can engage or disengage Extract Mode in your Hummer EV:
Locate the ride height controls on the top of the Driver Mode Control dial on the center console. The Raise button is located at the top (12 o'clock) and Lower is at the bottom (6 o'clock).
Select Terrain Mode by rotating the Driver Mode Control dial.
Press the Raise button on the Driver Mode Control until you see Extract Mode in the Driver Information Center (DIC). Multiple pushes are needed if starting at normal ride height.
To disengage Extract Mode, select a lower ride height by pressing the Lower button.
Here's a short video of the feature in action.
Source: Electrek