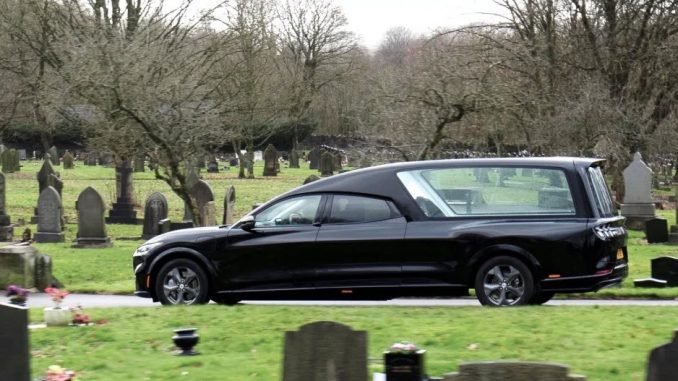 The electric vehicle revolution is not restricted to the living, as funeral homes have begun adopting battery-powered mobility for the departed. Coleman Milne, a specialist funeral vehicle supplier, has converted the first Ford Mustang Mach-E into a hearse.
The company has a history of converting Ford vehicles into hearses, making this step only a matter of when and not if.
The modified vehicle is named the Etive after the Scottish river. Coleman is currently testing the car for possible approval by the end of March.
The Etive has room for seven passengers, including three bearers, and space for the coffin, of course, which occupies a full deck. It is equipped with a glass roof and an optional electric tailgate, as reported by Ireland Live.
Coleman uses the Standard Mach-E, meaning the hearse runs on a 75 kWh battery promising a driving range of up to 200 miles. The range is significantly less than the 275 miles quoted by Ford.
The company plans to offer both left- and right-hand versions for the UK and the rest of Europe. Funeral houses will be able to order them in the middle of 2023.
Graham Clow, national sales director at Coleman Milne, said: "We have long championed the electric hearse at Coleman Milne, and we're proud to welcome the Etive hearse and limousine as the latest additions to our range.
"The excellent, long-standing relationship that we have with Ford enabled us to model the range on its Mach-E platform. The Mach-E is the perfect base for a comfortable, quiet and respectful hearse and limousine, while also providing funeral directors with all the benefits and innovations found in today's electric vehicles."
Dutch company Derks Uitvaartmobiliteit went with a Tesla Model 3 to build its own zero-emission hearse last year. In 2020, German coachbuilder Blinz collaborated with Coleman to make a hearse out of a Tesla Model S.
The Mach-E has also been converted into a police cruiser and used for ambulance service.