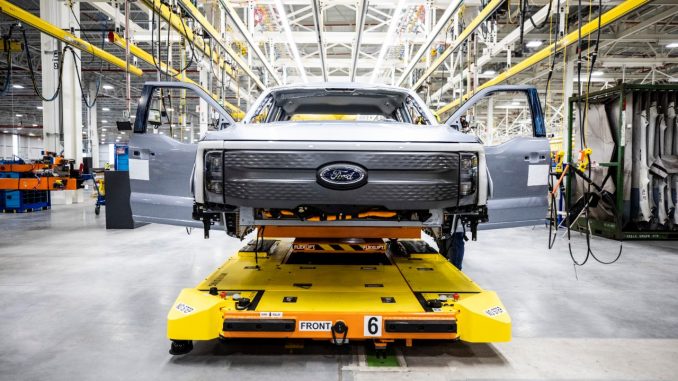 Ford has started notifying F-150 Lightning reservation holders that their electric pickup trucks will soon enter production.
In an email update sent this morning to Sergio Rodriguez, his F-150 Lightning Lariat is scheduled for production in the week of April 18, 2022.
What a message to wake up to! My F-150 Lightning ⚡️ is scheduled for production! This is pretty exciting! I can't wait! #Ford #LightningStrikes #Lightning #ElectricVehicles #sustainable #green pic.twitter.com/p6VtX6PBp3

— Sergio Rodriguez (@LyftGyft) February 24, 2022
If Ford is able to hold to that schedule, they will have gone from announcing the F-150 Lightning to the start of production in just 11 months.
Ford was originally planning to only build 40,000 units in the first year of production. Amid surging demand for electric pickup truck, Ford has increased that capacity to 150,000 units per year.
Even at that rate, there will still be a long wait before some customers get their Lightning. As of early December, Ford shut down their reservation website after having accumulated nearly 200,000 reservations since May.
Is your F-150 Lightning scheduled to begin production early than the week of April 18? Let us know in the comments below.
Ford suggests no-resale clauses to prevent F-150 Lightning flipping, warns dealers against market adjustments