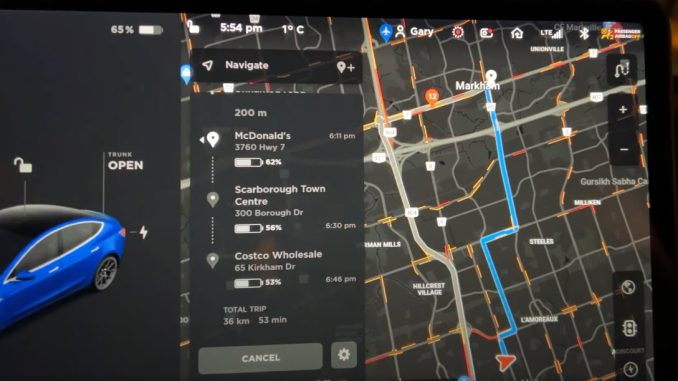 After years of requests from owners, Tesla finally released waypoints through a free over-the-air (OTA) software update. The new feature gives you the ability to add multiple stops on the way to your final destination, hence the name 'Add Stop'.
The feature was pushed to a small segment of owners earlier this month, but Tesla finally deployed a larger update yesterday with 2021.40.6, including many Canadian cars.
Thanks to some of those lucky owners, we have our first look at the feature in action.
Add Stop works by first entering in your final destination. You can then add a seemingly unlimited number of stops by tapping on the new plus icon in the navigation bar. You can also tap a location on the map and use the add button on the pop-up.
Upon doing so, the computer automatically recalculates your route and updates your timing as well as your estimated battery capacity at each stop.
An important thing to remember is that your first 'Add Stop' is placed in between your starting point and final destination. If you add another stop, it will be placed as your first stop, or ahead of the first stop you previously entered.
In other words, you have to plan ahead and work backwards from your final destination to get the order of stops correct.
The leads us to the one downside to the feature. There is currently no ability to edit and re-arrange your stops after they have been entered in. If you make a mistake you have to cancel and start over.
You can check out a couple of examples of the feature in action below.