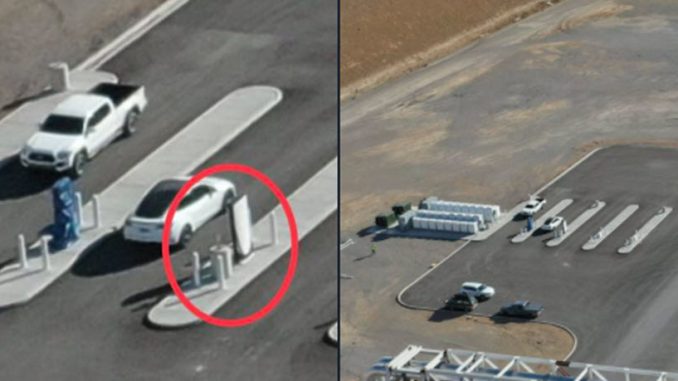 After years of waiting we finally have our first look at the design of the new Tesla Semi Megachargers that are currently being installed at Giga Nevada.
Construction of the Megachargers began in early October. Tesla enthusiast Sawyer Merritt obtained photos of the four chargers showing the groundwork and electrical appeared to be complete, leaving just the installation of the Megacharger pedestals left to be completed.
Now Merritt has obtained some new footage from a drone flyover of the factory, which gives us our first glimpse at the design of the new Megacharger pedestals.
Since the footage was taken from a high altitude, we don't get a perfect view but we can tell the design is considerably different than that of the latest V3 Superchargers Tesla currently builds for their passenger cars.
It does however appear to resemble the older Urban Superchargers, but is much larger and will obviously charge at speeds much higher than 72kW. What looks like a second Megacharger is already installed but still covered in a blue tarp.
Since Tesla is still developing the Semi truck, not much information is known about these Megachargers.
They are suspected to be able to charge at speeds over 1MW, providing a massive amount of electricity that will be needed to quickly refuel the batteries in the Semi so that it can get back on the road.
According to information last month, Tesla is installing these Megachargers for a fleet of test trucks to travel between Giga Nevada and Fremont.
Even with this latest development, it will still be a while before we see Tesla delivering the Semi to customers. The most recent update on its timeline came earlier this year, and it is not expected to begin production until 2023.
You can check out the drone footage below.
2/4 pic.twitter.com/BcEd92hJmS

— Sawyer Merritt 📈🚀 (@SawyerMerritt) November 8, 2021
4/4 pic.twitter.com/C3WyYBmzLh

— Sawyer Merritt (@SawyerMerritt) November 8, 2021